Hello.
Not to be the thousandth person to spew up some crap about how hard 2020 was, but it was something else. The world just sort of collapsed a few days after my thirtieth birthday and the whole thing was just sort of in limbo. As I write this introduction on the last day of the year, it still is. I'm relatively fortunate — among Americans at least — in that I live in Michigan, a state that's largely handled everything in a normal and humane way. Shutdown laws, mask mandates, good to great unemployoment payouts prior to the recent lapse, etc. Some people might occasionally go insane and try to kidnap the governor, but it's mostly been fine.
In terms of wrestling, things were obviously very different and this list will reflect that. Standards are lower than ever, and unlike 2019, it's not because of bad professional wrestling decisions or some dried up landscape. For most, it was simply out of their hands.
Well, somewhat, right?
To be incredibly clear, everyone running professional wrestling shows after Rudy Gobert became Patient Zero fucked up. None of that should have happened. Talk to me about contractual obligations in terms of two major promotions or talk about people needing to eat or needing that artistic outlet, it's complicated. I get it. It's fucked up and I get it and capitalism's real rough on everyone who doesn't belong to an ownership class, but none of this should have been happening. I missed wrestling, I love watching wrestling, but very few times since everyone kind of just agreed in the summer to go about their business has it ever justified that sort of existence again, especially when compared to everything on the other side of the ledger.
Because social distanced wrestling, for the most part, absolutely fucking sucks.
Turns out that for most wrestlers — and this is to say virtually all of them but a rare select handful — need a crowd. There has to be some kind of a response to everything happening, some sort of interplay that makes this all feel lively and exciting, and clapping alone isn't it. It's not to say great wrestling cannot happen in these conditions, because great wrestlers proved that it could. It is to say that it puts the harshest ceiling in the history of professional wrestling on just how good these matches can really be, stripping it of an essential element of the entire concept.
As such, pretty much everything since the middle of March is significantly worse than it could or should be. It's the worst year in wrestling history in some time, maybe ever. Things can always get worse. Things can always get better. But it's very very hard to imagine professional wrestling to ever have a worse year than it did in 2020.
However, it did happen and because I don't want to have to come back for ANY of this shit once 2018 A YEAR IN LISTS is finished and the decade stuff starts, it might as well just all be done now.
Here are some songs I liked in 2020 though.
TOP 25 HOOT OF THE YEAR/FUN THING YOU MISSED/CATCH ALL NOT-MOTY-BUT RECOMMENDATION LIST CATCHALL (CHRONOLOGICAL):
Dan Maff vs. Mance Warner, ICW No Holds Barred Vol. 1 (1/4/2020)

Jushin Liger/Great Sasuke/Tatsumi Fujinami/Tiger Mask IV vs. Ryusuke Taguchi/Shinjiro Ohtani/Tatsuhito Takaiwa/Naoki Sano, NJPW Wrestle Kingdom 14 Night One (1/4/2020)

Daniel Makabe vs. Kevin Ku, SUP Stay Cold (1/5/2020)

Daniel Makabe vs. Judas Icarus, 3-2-1 BATTLE! Hindsight 2020 (1/10/2020)

PAC vs. Darby Allin, AEW Dynamite (1/15/2020)

Alex Shelley vs. Isaias Velasquez, BLP Nobody Puts BLP In A Corner (1/18/2020)

Jake Lee/Fuminori Abe vs. Yuki Ishikawa/Hikaru Sato, AJPW New Years Wars (1/19/2020)

Cedric Alexander vs. Shelton Benjamin, WWE Main Event (2/6/2020)

The Briscoes vs. Bandido/Flamita, ROH Free Enterprise (2/9/2020)

Strong BJ vs. Dangan Yankees, ZERO-1 19th Anniversary Show (3/1/2020)

Eddie Kingston vs. The Rotation, WXW 16 Carat Gold 2020 Night Two (3/7/2020)

Violence is Forever vs. Hatfield & McCoy, SUP Harder, Louder, Faster (3/14/2020)

Oney Lorcan vs. Isaiah Scott, WWE 205 Live (3/20/2020)

Stadium Stampede, AEW Double or Nothing (5/23/2020)

Tomohiro Ishii vs. El Desperado, NJPW New Japan Cup 2020 Day One (6/16/2020)

Konosuke Takeshita/Yuki Iino/Shunma Katsumata vs. Jun Akiyama/Makoto Oishi/Hideki Okatani, DDT TV SHOW (6/27/2020)

Eddie Kingston vs. Brett Ison, ICW Deathmatch Drive In Vol. 2 (7/4/2020)

AJ Gray vs. Alex Colon, GCW Homecoming Night One (7/25/2020)

Anthony Henry vs. Ben Carter, BLP Erick Stevens Presents Professional Wrestling (8/22/2020)

Alex Shelley vs. Isaias Velasquez, BLP Turbo Graps 2020 Stage One (10/3/2020)

Kota Ibushi vs. Taichi, NJPW G1 Climax 30 Day Seventeen (10/16/2020)

Yuya Aoki vs. Tatsuhito Yoshino, BJW DEATH MATCH, STRONG, & JUNIOR THREE MAJOR TITLE (10/21/2020)

Ember Moon vs. Dakota Kai, WWE NXT (11/4/2020)

Butcher & The Blade vs. Dustin Rhodes/QT Marshall, AEW Dynamite (11/11/2020)

Hangman Page/John Silver/Alex Reynolds vs. MJF/Santana & Ortiz, AEW Dynamite (12/30/2020)
EVENT OF THE YEAR:
I struggled to even make it to ten here. It wasn't some barnburner of a year before COVID hit, and pickings became incredibly slim once we got to that point.
HONORABLE MENTION: BTE ~ "EPISODE 235: A CHRISTMAS, CAROL?" (12/21/2020) ~ JACKSONVILLE, FLORIDA
Is this a wrestling show?
I don't know. It's definitely a show with wrestlers and that revolves around wrestling. It has its own title belt. You can say there were no matches on it, but it is a show that presented a wrestling match in 2020. There was also an episode of WWF Sunday Night Heat in 1999 that featured less than 3:00 of in-ring time total and that still counts as a wrestling show, so in a year with options like these, I'm not sure it really even matters. At some point, this show became incredibly watchable and pretty funny again, the heir to something that readers of the 2011 and 2012 YEAR IN LISTS pieces will know is incredibly close to my heart, NXT Redemption aka NXT FOREVER SEASON.
Somehow, this show got a thousand times better once they stopped focusing on the incredibly unlikeable characters actually in The Elite and letting the supporting cast take over.
As for why this episode made the cut, it's all about the Christmas Carol gag. Few things in wrestling all year tickled me like Big Dust, Greg, and Orange Cassidy trying to be the various ghosts of the Dickens classic, only using a red felt blanket as prop and repeatedly insisting they're ghosts. Add in some sing alongs, it's just enough to make the cut.
Is this a wrestling show?
At a certain point, does it matter?
(yes, otherwise it would be #1 or on the list at all)
10. DRAGON GATE "FINAL GATE 2020" (12/20/2020) ~ FUKUOKA, JAPAN
Do I think most Dragon Gate stuff this year is incredibly overrated, largely owing to either people just being happy DG is doing things again or a group of people who may as well be aliens to me for how much I understand and can relate to their views on professional wrestling? Yes. The only reason "DG IS BACK" isn't pro wrestling fandom's version of "TEXAS IS BACK!" is because "NOAH is back!" exists, and is a much stronger fit, given that both peaked in 2005. It's never actually true if you don't have some heavy emotional investment into this brand, and I have no idea how someone could have that. But that's how I've always felt about Dragon Gate, even in periods when I've thought it was one of the best companies in the world. The diehards weird me out more than diehards of virtually any other product in the world. But when it's great, it's great. I don't know what to tell you, sometimes it all just clicks and on occasion, the wrestling and booking line up perfectly to compliment each other instead of one letting the other down, as has been the case for most of the company's last five to ten years.
I wrote a few weeks or months ago  that I wouldn't accept DG as being BACK until minor stuff started to deliver too and not just certain matches from certain guys. This show made me eat shit, and I respect that too much to not list it. A 3v3v3v3 was a hoot and a half, Okuda and Kagetora turned in a great one in spite of Bad DG Limbwork stuff, and then obviously, your big Unit Dismissal Elimination Match delivered. Even if I'm not head over heels about it, I can't deny that it was really great, especially from a booking perspective. Beyond that, a tag match with BxB Hulk and KAI didn't absolutely suck, and prior to the unfortunate injury, the main event between Shun Skywalker and Ben-K was becoming a great match too.
This probably doesn't crack a top 50 DG shows ever list, but there's three great matches, more good ones, and no real misses. In 2020 that's enough to make a top ten list for show of the year. It's an actual great show from Dragon Gate after like 2017! Will wonders ever cease?
9. ICW "NO HOLDS BARRED VOL. 1" (1/4/2020) ~ JERSEY CITY, NEW JERSEY
The Necro Butcher thing absolutely sucked and wound up being a harrowing sort of harbinger for what the rest of the year had to offer, but for the most part, this show ruled. I'm pretty sure Nick Gage vs. Tessa Blanchard is the best Tessa match ever that wasn't against a superworker like Kylie Rae. Homicide beating up some absolute schmuck? A blast! Alex Colon vs. Jimmy Lloyd was as solid as anyone could have expected. And in a year full of depressing news and phony bullshit, few things have been as satisfying as Dan Maff shrugging off the posturing of every bullshit "i love classic wrestling!" account given flesh, Mance Warner, before putting him into the fucking ground.
Was this a great show? Not exactly. Would it make a top 10 list in almost any other year I've covered or will cover? I doubt it.
But it's 2020, standards are different, and a show that happened to be fun and that felt good is enough to make the list.
8. NJPW "NEW BEGINNING 2020 IN OSAKA" (2/9/2020) ~ OSAKA, JAPAN
Another of these Lower Standards picks. Far from a bad show, but one that I'd never consider with thicker competition. But in a year like this, a show with a handful of great matches and nothing I'd consider offensively bad on a bone-deep level (Knife Pervert vs. SANADA comes close, but is ultimately too funny to make me that angry) can get reasonably high on the list. This Hiromu/Dragon Lee match lands better for me than most of their other ones for some reason, we get the annual Yoshinobu Kanemaru Banger, and Moxley vs. Suzuki is every bit the scenery chewing spectacle that you'd want. Expectations lived up to and expectations surpassed. Bad main event or not, in an uncommonly bad year, three great matches is really all a show needs.
7. AEW "FULL GEAR 2020" (11/7/2020) ~ JACKSONVILLE, FLORIDA
The television varies greatly in quality and some of the decision making is baffling, but the one thing AEW does well is the big event. Three of their four major ones in 2020 were home runs (admittedly, the one that asked people to pay $50 for a fucking MJF match was not good at all, total whiff) and this is the second best of them. The best major show of the COVID era, led by a hyperemotional main event between the two best and most important feeling wrestlers in the company, laid on top of an incredibly solid foundation underneath that. Meat Man gets to have a breakout pay-per-view singles match, Hangman Page and Kenny Omega manage not to shit the bed, and Darby Allin finally has his moment in the sun.
There's some real junk on this show too, just not enough for any man (or rather for Jericho, MJF, or The Revival vs. The Young Bucks) to tear asunder.
6. BLP "ERICK STEVENS PRESENTS PROFESSIONAL WRESTLING" (8/22/2020) ~ CROWN POINT, INDIANA
I'm stunned too.
I don't especially like Black Label Pro or comeback run Erick Stevens all that much. I don't hate either of them, but for the most part, they're just not for me and that's fine. This show fucking ruled though! The worst match on the show is probably the main event featuring the namesake, and even then, it's still fine enough. The meat and potatoes on this show is incredible though. Alex Shelley showing up and again reminding everyone who the hell he is. Violence is Forever gifting Blake Christian his career match in the opening sprint. The former Dasher Hatfield being shackled with one of the only bullshit gimmicks on this show and still making a great accounting of himself. AJ Gray and Arik Royal killing it. The crown jewel, somehow, comes in the middle of the show when Anthony Henry delivers the single meanest and best performance I've ever seen from him against promising neophyte Benjamin Carter, only weeks or months before Carter's unfortunate retirement from professional wrestling. What could have been!
The best thing this show does is embrace the gimmick entirely, providing a show almost entirely free from the sort of bullshit that's made BLP and most U.S. independent wrestling so goddamned tiresome over the last few years.
Stunningly, it results in the best American independent wrestling show of the year.
5. WXW "AMBITION 12" (3/7/2020) ~ OBERHAUSEN, GERMANY
Anchored by one of two or three serious Match of the Year contenders, the rest of this isn't nearly as bad as it needed to be to counteract that. Especially in a year this bad. The trick is giving Daniel Makabe three chances against the various European children that always seem to populate these cards, but there's more than that. "Seedball" Mike Bailey is once again a delight in this setting, and furniture empire heir Ethan Allen and sparring partner Luke Jacobs do pretty alright for themselves too.
It's mostly Ikeda vs. Ishikawa though tbh
4. NJPW "WRESTLE KINGDOM 14 DAY TWO" (1/5/2020) ~ TOKYO, JAPAN
Splitting the shows in half only manages to diminish the chances of WRESTLE KINGDOM on a list like this, but thankfully, most of the worst stuff landed on Day One, save for Chris Jericho wrestling, and most of the best stuff landed on Day Two, outside of the delightful Jushin Liger old man eight man tag from 1/4 and Kota Ibushi managing to give himself a Tombstone Piledriver with zero help from Little Kazu. Here, Mox and Juice deliver again, Knife Pervert makes everyone lose their minds online again by doing basic heel work, Goto and KENTA do their best to turn the clock back, and the show ends with perhaps the final piece of New Japan Magic there is. Certainly the last great payoff that it seems like they're still capable of.
The peak is over.
It has been for a year and change at this point. Nothing on this show is quite great enough to make believe otherwise.
But if you squint hard enough during the high points of this show, you might think it's a lot closer away than it ever was.
3. NOAH "GLOBAL JUNIOR LEAGUE 2020 DAY NINE" (1/30/2020) ~ TOKYO, JAPAN
I have a very simple rule.
If two of the ten or fifteen best matches of the year come from the same show, it's probably going to be pretty high on this list. This has even more than that going for it. Even while parts of it (Ogawa/Togo) are overrated in the usual ways and by the usual people, the tournament semi finals and finals are all tremendous. The big Sugiura-gun vs. NOAH Sekigun six man tag is terrific, and in most years in the last decade, would have been the best match NOAH ran all year and a top five Japanese MOTY proper. As it was this year, it was only the second best in each category. Either way, the first NOAH show in a long long time that felt like a proper near-peak era Pro Wrestling NOAH show. Mirage or not, it was still a really cool and satisfying thing to see.
As for the rest of the show?
I didn't watch it!
Four for four!
2. AEW "REVOLUTION" (2/29/2020) ~ CHICAGO, ILLINOIS
The idea that AEW is the first company in twenty plus years to really capture the spirit of WCW at its best is not a new or novel one. I am not going to blow minds by suggesting such a thing. That being said, this is such a great WCW show.
The formula is perfect. A main event driven more by starpower and strength of promos and angles, a gorgeous undercard that's both stunning (Bucks/Hangman & Omega) and fun as hell (Darby/Guevera), occasionally converging into one perfect package (PAC/Orange). With all due respect, it's a better WCW show than a significant chunk of WCW shows themselves, because those big workrate matches deliver much more than your average Dean Malenko vs. Ultimo Dragon match. And even if 2020 Chris Jericho is probably not as good and definitely not as entertaining as Hollywood Hogan, this accomplishes what so few major events from WCW ever seemed to do, which is to end by doing the right thing and with this overwhelming sense that things were moving in the right direction.
Not the tragic classic that it seemed for months that it might be when AEW struggled to regain form in the early COVID taping era, but still this fascinating historical document of where things were going before the world fell apart. It's the sort of show we just don't get to see all that often anymore, a confident young company on the ascent putting their best foot forward on their biggest stage yet. A really interesting and exciting show, even if it's not a flawless one. AEW's version of something like a late 2005 TNA PPV or ECW Barely Legal.
1. AEW DYNAMITE (12/30/2020) ~ JACKSONVILLE, FLORIDA
It's not always about great matches alone in this category. This has a great match and aside from the womens tag, it's thoroughly watchable in the ways that most episodes of Dynamite are. But it's about so much more than that, and becomes the best thing that a wrestling company did in 2020. Tear jerking at times, heartwarming at others, a perfect tribute to the Big Rig. For once a wrestling tribute episode of television felt less like a funeral and more like a wake.
It's the single most well intentioned wrestling show I've ever seen, and the most overwhelmingly good thing professional wrestling was able to produce this year, even if we'd all rather it never had to happen.
PROMOTION OF THE YEAR:
I could talk here about AEW churning out good and watchable week to week television like nobody in America has since 2013-2014 WWE being shockingly good. I could talk about DDT's formula once again producing good quality work or NOAH or Dragon Gate's resurgences, as manufactured, target tailored, and/or overrated as they may be. But I don't know how much any of that really mattered
Every wrestling company that ran shows after the second week of March 2020 has some level of blood on their hands. Some of them held off until the summer to have fans back in. A select few waited even longer and even fewer never let fans in at all. No one of these options is morally correct, because there is still a fucking global pandemic going on and professional wrestling is so incredibly far from being essential. None of this had to happen or should have happened.
As such, 2020 marks the return to the throne for one of the great promotions of the previous decade, but one not in serious contention here since 2015.
Congratulations!
1. PRO WRESTLING GUERRILLA 
They didn't run any fucking shows and actually stuck to their guns all year.
Literally it would take for a promotion to win the award this year.
TAG TEAM OF THE YEAR:
5. VIOLENCE IS FOREVER (DOMINIC GARRINI & KEVIN KU)
PREVIOUS: 1 (2019)
The reigning and defending TTOTY is robbed by independent wrestling shutting down for as long as it did. I don't think they repeat anyways given the run that the winners of this category went on in the last quarter of the year, but Ku and Garrini could have done much better than they did. But then hey yeah, recurring theme! There was a pandemic! Any American wrestler not working for one of the major companies is handicapped this year in a way that is realistically entirely unfair, but these things happen based on what actually happened and not what I think might have happened if all things were perfect.
As it was, we only got to see VIF a few times this year, but every time it was fantastic. They're not the highest ranking American tag team on this list, but on a match-by-match basis, they're the most watchable and consistent tag team in the country if nothing else.
The match against Hatfield & McCoy from SUP's March event just before the world ended is an ultra impressive look at what they can do with a pair of promising kids, and then the delightful sprint from top ten show of the year BLP Professional Wrestling against Christian and Zayne shows what they can do against guys who rarely ever do it for me. It's the best Blake Christian match I've ever seen, and it sure isn't because of anything he did differently that night. Even in the non great matches they got to have, the performances of Ku and Garrini always stood out. The sorts of guys who very obviously deserved some bigger rooms. Unfortunately, after THE COLLECTIVE turned out like it did, indie wrestling quietly closed back up again outside of GCW and some embarrassing no-ring shows, and we haven't seen Ku and Garrini together since.
The big wish for 2021 is a return to form for these guys, no matter what form that might take.
4. HANGMAN PAGE & KENNY OMEGA
3. THE YOUNG BUCKS
PREVIOUS: 3 (2010), 1 (2011 & 2012)
I may as well use the same picture for both teams because that match is the bulk of the case each team has. That and the wonderfully insane Stadium Stampede match, in which they teamed together.
Why are the Bucks a spot higher?
Each team had some real bombs at certain points, but I thought Omega and Page had a series of real bad to mediocre defenses in the summer, while the Bucks had things like the surprisingly fun Butcher & Blade match over the summer or a great four way tag match earlier in the year or the stunningly fun match against Top Flight. Finally, given that both men had matches against FTR which one could classify as letdowns to be concise about it, the Bucks/FTR match was better than the Hangman & Omega/FTR match.
Spottier resumes than Violence is Forever, but with that one big hit that they simply didn't have going for them.
2. NAUTILUS (YUKI UENO & NAOMI YOSHIMURA) 
The feel good hit of the winter, which somehow lasted into the next one.
To be honest, they're still just kids and them making it this high is as much a credit to the benefits of the DDT system and formula as much as it is a comment on how much the pandemic seemed to hurt tag team wrestling in particular. It was all very simple formula work. An obvious future star classical athlete paired with a goofier looking chunky guy, both bursting forth with the sort of charisma very easily channeled into good matches, buoyed at first by the surprise of these children — Ueno especially — already doing so well for themselves and then later by how well they were managing to grow into holding the KO-D titles for as long as they did. At some point though, remove the qualifiers. The resume is the resume. No team was as consistent for as long as Nautilus was, no matter how little noise it made to a larger wrestling community. If a banger happens in a forest and nobody is around to see it, it does in fact still happen.
1. ASTRONAUTS (FUMINORI ABE & TAKUYA NOMURA)
PREVIOUS: 2 (2019)
The question with so many of these is going to be, "would this have won in any other year?". For Wrestler of the Year, it's a hard no. For Match of the Year, it's a hard maybe. For Tag Team of the Year, the answer is that it at least would have also been good enough to win 2019 Tag Team of the Year, had the same team had the same resume then that they did this year.
A year ago, I felt like the Astronauts were the best tag team in the world, but they didn't have the resume to be #1, especially when compared with the year that Garrini and Ku had in 2019. They didn't have the resume of repeated big matches just yet, so saying something like that was entirely based on the performances they got to have. It's a tag team that seemed to click immediately, with their natural chemistry as opponents manifesting into natural chemistry as partners. Abe is a pure shitkicker, but the heart is the way Nomura can both work as an underdog and as a pure ass kicker. It's a team as lovable as it is diverse. Our Collective Sons. I was worried that because of the pandemic and because of BJW being incredibly mercurial about things like this that they might just wind up being forgotten about entirely a la Double Hashimoto five or six years back, and forever be this "what if".
Thankfully, the rest of wrestling seemed happy enough to clear the way for them, both through a pandemic and through no other tag teams putting together a resume like Abe and Best Nomura did, even only doing it over the course of the last five months of the year. An underdog title win/coming of age story (vs. Sekimoto/Sato), bullying performances against an old man and a young guy (vs. Ohtani/Yuya Aoki), general solid performances, and then ending the year with an affirmation of who the kings were now (vs. Twin Towers). It's not just an impressive resume on the level of raw quality, but it's diverse enough to be the thing that makes up the difference.
In a weak field full of imperfect cases, it's a no brainer to take the one without a weak or disappointing match on it. Your typical winner in a category like this is going to be that perfect meeting of quality and quantity. In the absence of balance, it's always quality over quantity, and there's no better expression of this principle in 2020 than the tag team of the year.
SPECIAL CATEGORY: WORST MATCH OF THE YEAR
2020 saw a lot of very bad wrestling. Sometimes it was bad because there was no crowd and people were more exposed than ever. Sometimes it was bad because it was just bad. And then a few matches, largely the WWE cinematics but also not just those, were legendarily bad. In 2020, I watched maybe the worst match I've ever seen, and it deserves recognition.
Not every superlative has to be positive.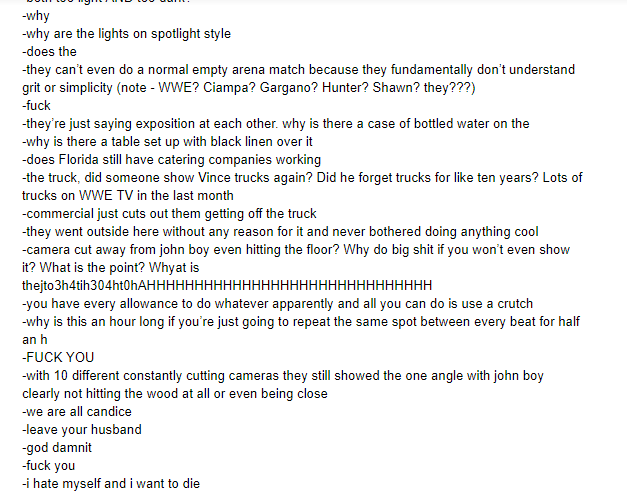 JOHNNY GARGANO VS. TOMMASO CIAMPA, WWE NXT (4/8/2020)
I wrote a lot about it once. I don't want to get started writing a lot about it again, largely out of the fear that I won't be able to stop. But it's a hell of a thing and any worthwhile discussion of 2020 needs to have something to do with these cinematics, I figure. This is the worst of them by a mile. The weird SWAMP FIGHT was dumber, but this was almost an hour long, and so much worse for it. It's the worst wrestling match ("match"?) I've ever seen. It broke my sobriety. It's one of the worst pieces of any sort of media that I've ever consumed and the same warning should be on this that they put on nuclear waste sites:
This is not a place of honor.
No highly esteemed deed is commemorated here.
Nothing valued is here.
What is here was dangerous and repulsive to us. This message is a warning about danger. The danger is in a particular location. It increases towards a center. The center of danger is here…of a particular size and shape and below us.
The danger is still present in your time as it was in ours.
The danger is to the body and it can kill.
The danger is unleashed only if you substantially disturb this place physically. This place is best shunned and left uninhabited.
The real time death rattle of two once incredibly promising careers.
Now, on with the business.
MATCH OF THE YEAR:
2020 saw the lowest barrier for entry in this category ever. Usually when I make one of these, I just list every ***1/2+ match I come up with for a year and whittle it down to twenty five. Sometimes I have to add one or two in a weaker year like 2012, but the selection process isn't something that's ever given me all that much trouble. Here, that obviously did not happen, for every reason obviously discussed. So, to commemorate a handful of matches that were fairly arbitrarily cut compared to some of the matches in that 25-17 range, I'd like to offer a rare Honorable Mention list for this category, en lieu of needing one for WOTY, of eight matches on a rough list that didn't quite make the final cut.
HONORABLE MENTION (CHRONOLOGICAL):
Cody Rhodes vs. Darby Allin, AEW Dynamite (1/1/2020)
Daniel Bryan vs. Drew Gulak, WWE Smackdown (5/15/2020)
Minoru Suzuki vs. Tomohiro Ishii, NJPW G1 Climax 30 Day One (9/19/2020)
The Coward vs. Ilja Dragunov, WWE NXT UK (10/29/2020)
Shingo Takagi vs. Minoru Suzuki, NJPW Power Struggle (11/7/2020)
Io Shirai vs. Rhea Ripley, WWE NXT (11/18/2020)
Toryumon Generation vs. R.E.D., DG Final Gate 2020 (12/20/2020)
Jun Akiyama vs. Konosuke Takeshita, DDT D-Oh Grand Prix 2020 Final (12/27/2020)
HARASHIMA/Yuji Okabayashi vs. Konosuke Takeshita/Takuya Nomura, BJWxDDT NYE Tag Shuffle (12/31/2020)
25. DANIEL BRYAN VS. AJ STYLES, WWE SMACKDOWN (6/12/2020)
It's not the best Bryan vs. AJ match. Not their best long-ish match on WWE TV. It's not even the best Bryan vs. AJ match that comes with the "if AJ only sold his arm better" caveat. But it is Daniel Bryan vs. AJ Styles for nearly half an hour on WWE television somehow, so I'm just as impressed with this somehow being allowed to happen, even in a pandemic, as I am with whatever happened in the ring.
Bell to bell, it's Bryan doing Bryan stuff. This is an old pairing by now and while they don't have much new ground to break together, it still all hits. It's fun to see them have a match like this that's so much looser than all of their other work. There's enough thought put into the performance of Bryan at least that the term "riffing it out" feels a little mean, but they're definitely just kind of bouncing ideas off of each other out there. Swapping work on AJ's arm with work on Bryan's leg, things earlier or later in the match than you might otherwise expect. It's a long ways from perfect, as it's definitely too long and AJ once again lets Bryan down with some of his selling choices. It's still the greatest wrestler of all time getting a bunch of time to throw ideas around with a capable opponent, and in a year like this, it was simply too hard to find twenty five matches better than a fun and substantial Daniel Bryan double limbwork exhibition.
Spiritually, the best ROH World Title match of the year.
24. HIKARU SATO VS. SUSUMU YOKOSUKA, AJPW NEW YEARS WARS DAY TWO (1/3/2020)
A Susumu match (nearly two!) in the top twenty five in one year?
The world collapsing is really the only way to explain it.
Alternately, it's that Susumu's Dragon Gate Brain Sickness for once finds its way into a match with a guy like Hikaru Sato who actually bothers to sell the time filling limb work. Making it, in fact, not a time filling measure at all! Sato turns in a career performance and without my greatest pet peeve being activated by a Susumu singles match, it turns out he's not all that bad himself.
23. BEST FRIENDS VS. SANTANA & ORTIZ, AEW DYNAMITE (9/16/2020)
The bastard child of the Finlay/Regal parking lot brawl and a good old fashioned Reseda gimmick match stunt show. In short, it's as fun as pro wrestling gets, especially on free television. Cool and violent and just fun as hell. A tremendous microcosm of what makes AEW TV work so well in the moments when it clicks. Creative guys get to go out there with proper build up and go relatively wild. Pure sugar for fifteen minutes.
22. HARASHIMA VS. AKITO, DDT D-OH GRAND PRIX 2020 DAY SIX (12/6/2020)
DDT's finest grapplefuck pairing once again knocks it out of the park. It's a solid ten plus minutes of clever back and forth riff work down on the ground with a loose enough focus on a leg or two to tie it all together. Aimless mat genius would be one thing, but it's the attention to detail both men show on top of HARASHIMA's leg selling and maniac bumping the few times they bother getting to their feet that really ties this one together.
21. JON MOXLEY VS. EDDIE KINGSTON, AEW FULL GEAR (11/7/2020)
Hyperemotional grudge fighting.
If this was a list of the best match build ups of 2020, this is #1. With a bullet. To the extent that I can't really even think of a runner up that's even close. The best promos of the year, the realest feeling issue of the year, all carried off by two of the best and most engaging wrestlers of the year. Unfortunately, the match didn't quite live up to that. AEW being AEW, it seemed more to gesture towards violence than to really sit and live in that atmosphere. It definitely felt rushed at points. King never quite seemed to come off as a real threat, and the whole thing felt less than it should have been, despite the quality involved in just about every single second of the thing. It's hard to see the last two years of Jon Moxley and the last fifteen of Eddie Kingston and think that this is all they were capable of in a match lik ethis.
Of course, a slightly handcuffed and rushed Jon Moxley vs. Eddie Kingston "I Quit" match is still gripping as hell, and better than all but twenty other matches this year. Great matches can be disappointing too, especially if they involve wrestlers as good as these two.
20. SHINGO TAKAGI VS. SHO, NJPW NEW JAPAN CUP 2020 DAY THREE (6/22/2020)
Shingo turns up to face a promising young wrestler who fills space by targeting the arm, leading to the best sort of Shingo performance, in which he constantly has to sacrifice something of himself to maintain his position in the world. It's far from a new sort of Shingo Takagi match and the role SHO inhabits has certainly been played by better wrestlers in the past, but it's another example of how in 2020, it was pretty much only the proven formulas that seemed to work.
The best Dragon Gate match of the year.
19. TIMOTHY THATCHER VS. ONEY LORCAN, WWE NXT GREAT AMERICAN BASH (7/1/2020)
Turns out a version of one of the best match ups of the last decade is still really great!
I won't call it a dumbed-down version exactly, because it's as tense, violent, and uncompromising as ever, but it's definitely different. Not in the ways that take away from the match much at all, but there's some ethereal "next level" that this doesn't hit that their more famous work in Beyond, EVOLVE, and WXW managed to get their hands on. As it is, it's still Thatcher and Biff fucking wailing on each other for ten to fifteen minutes. Real clear story with the arm of Lorcan, which allows both men to do what they do best. Thatcher commits acts of torture, walking the line perfectly between aggression born out of sadism and aggression born out of panic. Oney Lorcan is as aggrieved as always, fighting both to live and because fighting rules.
Once more, the things that worked in 2020 were the things that will always work.
I've never seen a Thatcher vs. Oney/Biff match that didn't work, and even a pared down first-time-in-WWE version of this is one of the best wrestling matches of the year.
18. TIMOTHY THATCHER VS. ONEY LORCAN, WWE NXT  (7/22/2020)
The follow up, better only by a hair.
It's a very clear sequel and a perfect sequel, as far as this sort of a deliberately pared down bare bones sort of TV match is going to go. Theoretically, it's a second time ever meeting and Oney was able to tighten up in areas that were loose enough in the first match for Thatcher to exploit. Oney gets revenge in certain areas, and comes off as a better wrestler now than he was then. With his aggression no longer being as effective, Thatcher uses the tights to steal a pin when he's unable to escape a hold. It's an interesting new direction for Thatcher, the sort of version of himself you'd imagine the WWE bringing out. It's the end of his push for whatever reason (I blame Gabe, obviously), but it's still a blueprint for both how he can work as a successful character in the WWE and for how this style of wrestling can work in an environment like this.
There is, of course, the seeming promise of a third match in the series that never winds up fulfilled. But once again, expecting anything beyond the immediate moment out of something in the WWE is the way you get your heart broken. I want more for you all, but most importantly, I learned the lesson myself a long time ago (look forward to the January 2015 block of posts!)
A whole lot sucked in wrestling this year, but the fact that we managed to get two (2) more iterations of this all-time good match up from WWE's all time most soulless domestic product feels like nothing short of a miracle.
17. HARASHIMA VS. KAZUSADA HIGUCHI, DDT KING OF DDT 2ND ROUND (8/9/2020)
Another old classic, one of DDT's all time great match ups, once again delivers.
Higuchi steps up to the plate to prove the last time wasn't a fluke, while HARASHIMA once again steps into his greatest role and perhaps THE greatest role in wrestling, an aging former Ace still trying to hang in there. While it lacks the grandeur of some of their title confrontations in the past, or the punch of Higuchi finally getting past HARASHIMA in 2018, what works here will always work. It's the sort of thing with pandemic wrestling too. What works in this time is the sort of wrestling that will always work. Character focused, hard hitting, efficient wrestling. Precious few do the former two better than Kazusada Higuchi, and even fewer do all three as well as HARASHIMA.
The best DDT match of the year.
16. BAYLEY VS. SASHA BANKS, WWE HELL IN A CELL (10/25/2020)
My guilty pleasure of the year.
It's not the sort of match I usually like. It's all spot based, it's probably too long, it gets overly complicated sometimes. And yet, it all worked! There's something to be said about total commitment to the idea of what this was going to be. Dramatic and huge and inventive and sprawling. A WWE gimmick match with the brain of a 2000s indie garbage match blowoff a la Hero/Tornado or Hero/Cannon. There's something also to be said about Bayley finally clicking in the ring as a heel, and there's probably even more to be said about Sasha Banks once again turning in an all time great bump freak performance inside Hell in a Cell. An incredibly rare victory for long term booking from a company that's always seemed to despise the very concept.
The rare WWE match in recent years, not simply in 2020, to swing for the fences like this and come even close to getting there. A monument to the benefits of committing to something with your entire heart, no matter how ridiculous it might be. It's the Black Lodge. Approach it with an impure heart and be destroyed. Do the opposite and have the sixteenth best match of a very bad year.
15. TIMOTHY THATCHER/YUKI ISHIKAWA VS. WALTER/DAISUKE IKEDA, WXW 16 CARAT GOLD 2020 NIGHT THREE (3/8/2020)
One of the most charming and bittersweet matches of the year, and a careful balancing act between heartwarming appreciation for the past and the depressing final death knell of an era.
It's the final independent ("independent") match to date for either The Coward or Thatcher. Thankfully, they get a hell of a thing to go out on. They might not be teaming together, but I can't think of a more fitting send off for Ringkampf as a concept than to get to share the ring with BattlARTS icons and come off as near equals. Once more, The Coward shows up to Carat weekend and reminds the world why it was such a heartbreaker when he revealed his true nature. Once more, Timothy Thatcher takes the slightest opening to steal the stage and remind everyone that he just might be the very best wrestler in the world. If it had to end, I can think of no more satisfying or appropriate ending than this.
More importantly, it's a love letter to BattlARTS from at least one wrestler who's worn that same love on his sleeve for practically his entire career, and his longtime partner and rival, who fits into that style perfectly. Thatcher is elated to get to work with his heroes once again, and while WALTER doesn't seem to share quite that level of reverence for the two masters, he and Ikeda immediately work together like a brutal, petty, and domineering hand in glove, and provide the perfect contrast for their longtime working class foes.
The last great European indie match, fittingly in the middle of a show ended by a goof like Cara Noir being handed the keys to the kingdom before a pandemic intervened to stop any of that from happening. God works in mysterious ways.
14. CODY RHODES VS. EDDIE KINGSTON, AEW DYNAMITE (7/22/2020)
More often than not, the most exciting things in wrestling come from disruption. More often than not, it comes from one singular entity who breaks up the way things are supposed to be going and inflicts himself upon us as viewers. A friend used the term, "breaking the television", to describe the phenomenon. I don't know if this quite breaks the television in the way of something like Punk sitting Native American style on a stage of the improbable run of Daniel Bryan, but it's something so incredibly out of the ordinary that it's the phrase that keeps coming to mind when I think about it.
Truly, there is no greater disruptor in professional wrestling than Eddie Kingston.
Compared to most wrestlers, Eddie Kingston feels innately real. It's always been his greatest asset and every positive in his game seems to fall under that umbrella. He fights in a realer way, he sells in a realer way, he speaks in a realer way. It makes everything he does better, because there's no disconnect you need to buy into this guy as a real person.
Compared to Cody Rhodes, Eddie Kingston feels like the realest professional wrestler to ever live.
This always has an uphill battle to fight, as it's next to impossible to legitimize Cody Rhodes as a tough guy convincingly on a show held by a company that he helped found, but they do a hell of a job anyways. Cody's greatest strength over the last few years has been this near perfect sense for when to get the hell out of the way and let someone more talented go to work. More importantly, it's a sense for, when in that situation, how to remake himself to get the most out of someone on a roll. It's best seen in the series against Darby Allin, but it results in the best match here against Eddie Kingston. Eddie shows up, breaks the television, and delivers the exact sort of tour de force that anyone who had laid eyes on him over the last fifteen years knew he always could given the slightest opportunity.
All in all, for whatever it lacks as a match (and always would, it's still Cody at the end of the day), it makes up for in being the rare undeniable MOMENT on top of the match, the sort of thing that television wrestling has been missing for an embarrassingly long time.
13. KENNY OMEGA VS. PAC, AEW DYNAMITE (2/26/2020)
Perfectly laid out and executed dumb spotfest wrestling. Things in the right order to maximize their impact on the crowd and the story of the match at large. A tremendous heel and a babyface that…well, a tremendous heel performance from PAC all the same. As always in moments like these against people with a similar mindset and style, Kenny wrestles up to the level of the moment. The rare match from both that feels like it deserves to go as long as it does, without even taking the iron man stipulation into account.
And it's only the second best match that both men had that week.
12. ASTRONAUTS VS. TWIN TOWERS, BJW DEATH MANIA VIII (12/20/2020)
Following the upset in August (keep reading), Kohei Sato finally has enough of on-paper dream teams, and brings The Big Dog back to reactive the actual dream team, BJW's second greatest tag team of all time and one of the former blue blood teams of the Strong BJW golden age. Shuji Ishikawa shows up with the appropriate chip on his shoulder and hatred in his heart, and it's as easy as it ever was.
This one's not an underdog story or some coming of age story. Nomura and Abe hold onto what they already have and keep their feet planted in the face of violent revanchism. Most interesting isn't just the violence or how starkly efficient this all is, but the way they go about it. Ishikawa might have shown up more motivated than he's seemed in a long time, but they still seem to recognize the clear limits of what he can do and treat him like late period Andre the Giant. He's a force of nature, this goliath that Sato's summoned in his anger, but once either frozen out, evaded, or on occasion actually beaten back, the best tag team in the world can target Sato. The Twin Towers' attack fails once they're older and lack the same offensive firepower or staying power. Sato's arm gets hurt in a realistically minor way, because sometimes that just HAPPENS when you're older, and some simple chipping away at it gives the Astronauts the win. It's not just a match that sets out to make a statement, it's a match that makes one in a fascinating and unexpected way. It's not 2015 anymore, and time's arrow only ever moves forward.
The kings are dead.
Long live the kings.
11. PAC VS. ORANGE CASSIDY, AEW REVOLUTION (2/29/2020)
A better version of last year's PAC vs. Kzy gem, as PAC turns in an even better performance in a shorter match against the American Kzy.
It's the exact sort of wrestling that I love. It's tight, the crowd is molten, it's two perfect characters that contrast perfectly being hurled against each other for the very first time, and the whole thing is spirited as hell. I can't quite call it a perfect underdog match because a perfect underdog match is one where the upset happens, but given that it SHOULDN'T have happened here, it's hard to find a single thing wrong with it.
Perhaps the greatest value of the match now comes months later, with it transforming into a career high water point for what the Orange Cassidy character can do in a real match, for people who might like to avoid praising a sexual abuser if it can be helped.
10. DAISUKE SEKIMOTO/KOHEI SATO VS. ASTRONAUTS, BJW @ KORAKUEN HALL (8/10/2020)
One of the previous few pandemic era wrestling matches to succeed while being something other than a bare bones fight.
More importantly, it's the aforementioned coming of age story.
BJW can be an incredibly frustrating company to follow. Beyond the insistence on using the Imperial flag, they make some really baffling decisions. Some of that is having bad taste and asking a frustratingly mercurial performer like Daichi Hashimoto or a dud like Yasufumi Nakanaoue to successfully handle the Strong BJ Title like the greats before them. That's not something that ever really gets solved, and is more bad than frustrating. The part that tests patience is the glacial pace with which they often elevate people, best seen with Yuji Okabayashi from 2010 through his coronation in 2015, and as seen currently with obvious wunderkind Takuya Nomura.
The payoff for all that is here, when he finally gets a big one off, and even in a tag team setting, it feels like the most important thing in the world. Not so much so that seeing Nomura had something as far back as 2016 and waiting a whole four years to give him something like this is suddenly justified, but enough to restore some faith that at least with Nomura and Abe, there's SOME sort of method behind all of this madness.
A welcome and necessary reminder that wrestling can do more than just flip the trigger on the animal brain that makes me hoot and holler when people are getting hit for real and dropped on their brains, that it's supposed to be satisfying too, and that all of this is better off with actual feeling behind it.
9. GO SHIOZAKI/KATSUHIKO NAKAJIMA/SHUHEI TANIGUCHI VS. TAKASHI SUGIURA/KAZUYUKI FUJITA/HIDEKI SUZUKI, NOAH GLOBAL JUNIOR LEAGUE 2020 DAY NINE (1/30/2020)
Old NOAH rears its head for just a moment, by design as much as by accident.
It's no secret to anyone that's read this site before that I often find build up tags more interesting and better than the matches they build up. They have more tools at their disposal, they're often more interesting and daring, and more often than not, they're not as long as the singles matches they build up. None of that's really true here given that it builds up the most brazen and daring match of the year, but it's a match you can throw up against almost any great build up tag in NOAH history and not be embarrassed by.
It's hardly a new feud or formula, it's just that everything lines up perfectly here. The crowd is with them. Everyone — and I mean EVERYONE, even fucking Taniguchi — turns in some of their best work. Sugiura's awake again with his elbows for the first time in some time. Nakajima and Hideki are terrific against each other, only in short bursts instead of mistakenly being asked to fill up half an hour. And yes, of course, Go Shiozaki vs. Kazuyuki Fujita is a perfect match up.
The best NOAH match in four years and change, only to be topped the very next match.
8. KENNY OMEGA/HANGMAN PAGE VS. THE YOUNG BUCKS, AEW REVOLUTION (2/29/2020)
There's always one.
Almost every year of the last decade, save 2016 and 2019, there's been one Young Bucks match that blows me away. It doesn't quite hold a candle to the great Bucks stunt shows and/or brawls, it probably isn't even as great as the Bucks vs. Dojo Bros matches still in my head from 2012 and 2013. But in 2020, the bar's a lot lower, and your annual incredibly ambitious Young Bucks success just happens to be enough. Still, this is one of the most impressive of all of them, given that it's against a team comprised of one wrestler I don't like all that much and one who I like more, but who definitely is still growing into himself. Unlike so many of the other big Young Bucks hits too, it's just a normal wrestling match. It's a big dumb sprawling epic, but as always with the best of these, it's one that has something to say. About teamwork vs. superteams, about friendship, and most importantly, about the elevation of Hangman Page in spite of his own insecurity, which realistically doesn't just vanish after one win.
The ultimate testament to the match is the stunningly low number of times watching it that I wound up shouting at the screen, which usually happens at least once or twice minimum during any Kenny Omega match.
7. DAISUKE HARADA VS. DICK TOGO, NOAH GLOBAL JUNIOR LEAGUE 2020 DAY NINE (1/30/2020)
The best junior heavyweight match of the year!
This got swallowed up a little as everyone rightfully gushed over the other great match on this show and then also tripped over their dicks to praise Yoshinari Ogawa for doing simple things correctly in the semi-final against Togo, but this always did so much more for me. It has the simplicity and focus of the widely praised semi-final but also a sense of grandeur that so many lesser wrestlers in lesser matches would struggle to hold in each hand at the same time, nevermind balancing them as perfectly as these two are able to.
It's a tournament final, playing off of matches that came before it, while also carving out something entirely new to build itself on. Togo is as nasty as ever. Daisuke Harada is as solid as ever. The rare junior capable of selling something like it matters as well as laying in the shots, building up an epic, and rarely ever going overboard. After a performance like this, I'd swear he was the best junior heavyweight in Japan. Nine months later, I still might.
A beautiful piece of junior heavyweight wrestling, and perhaps Dick Togo's last reminder on how to do this shit correctly and effectively with as little waste as possible, with a little help from the best wrestler in the company.
6. JON MOXLEY VS. DARBY ALLIN, AEW DYNAMITE (8/5/2020)
Nobody fights like father and son.
For all his dramatic brawls against monsters, old men, and bitter violent brawlers, this was actually the most I enjoyed Jon Moxley all year, straddling the line again against someone younger and more sympathetic, but while still preserving himself as the top good guy in the country. It's a much harder thing to do and something I think he's actually much better at. Darby Allin isn't the best human being, but when he's in there and really fighting against something that seems bigger than him and/or someone we know is better than him, you forget everything else because he's the best underdog in wrestling. He's the perfect contrast here to Jon Moxley, the dirtbag people's champion, on a stylistic level. At the same time, there's this really wonderful story told without any action taken at all, that the success of a Jon Moxley shows that someone with Darby Allin's brain can actually succeed. If something like Walter vs. Callihan in 2011 was Vader vs. Sting for people who have nodded off on the toilet in a Waffle House and spent the night there, this was Ric Flair vs. Sting for people who've lived in an apartment without furniture.
If not for a few unnecessary incursions in the name of Booking near the end, this may have been a top five level match of the year. Terrifying to think that these two have had two of the best matches of the year in successive years and the best is still very clearly yet to come.
5. JON MOXLEY VS. MINORU SUZUKI, NJPW NEW BEGINNING 2020 IN OSAKA (2/9/2020)
Then sometimes, it has little to do with the minor touches at all and wrestling can be as big and stupid and bullheaded as possible and it's still so totally fucking great because it can be anything.
It can even be wrestling finally providing an answer to the age old question of what it would look like if Snake Plissken fought Chung Li from Bloodsport.
A scenery chewing spectacle. An absolute delight. It's style and substance, but if we're being honest, it's mostly style. It's twenty some minutes milking how fucking COOL it is that this match is happening at all, but always with the foot on the gas and a baseball bat out the window, because nobody should get to have mailboxes. Moxley takes the time to keep that arm tight at his side and it's the sort of thing that elevates this, but from the moment both men showed up and had that electricity between them, this was always making the list. It's a testament to these two that they cared enough to make it THIS great when they could have gotten away with so much less.
4. GO SHIOZAKI VS. KAZUYUKI FUJITA, NOAH THE CHRONICLE (3/29/2020)
The boldest and most brazen professional wrestling match of the year.
The best use of coronavirus era professional wrestling, to the extent that it probably never could have happened like this without circumstances being what they were. A thirty minute plus staredown turned into an empty arena match, before they begin wailing on each other in the ring. The ending is what it was always going to be, but for as great as that was, it's comfortably the least of the major three sections of the match. It's the craziest thing that happened in wrestling once the world fell apart and the ultimate rebuttal to the idea that there's simply nothing these wrestlers or companies can do without crowd or with crowd being like they are. Circumstances are hard, yes, but it's always about what you do with them.
The pandemic sucked. Lockdown was crazy. But personally, I used it and the massive unemployment checks (s/o Big Gretch) as an excuse to do the things I'd wanted to do for a long time. The pandemic sucked for wrestling companies. A lot of no fan shows. A lot of shows where fans couldn't make noise. But these two wrestlers and Pro Wrestling NOAH used it to put forth the most interesting major title match perhaps in the entire history of wrestling. Even with the great stuff, you can always kind of tell what inspired them, what they're drawing from, and you can see the footsteps someone's walking in. But really and truly, there is absolutely nothing like this match. While everything else eventually blends more and more into the background, this one's going to stand the test of time, not simply for what they did, but for how stunningly well it all came together.
It's not just that they had the courage to have a match like this, it's the god damned audacity of it all to work out as well as it did.
It's not the match of the year. 
It is, however, the match most OF the year.
3. KAZUCHIKA OKADA VS. TETSUYA NAITO, NJPW WRESTLE KINGOM 14 DAY TWO (1/5/2020)
Should it have been done two years ago?
Yes.
Of course. Obviously.
Does that diminish what they did here? Not really. It's Okada and Naito at their best, finally having a match that comes close to living up to the promise of that magical first encounter nearly eight years prior. The match reverses the biggest strength of that initial encounter as a final way to symbolize Tetsuya Naito having to find a way to stop getting in his own way. Okada does his best to turn the clock back himself and operate once again as pro wrestling's Marlo Stanfield — cruel, calm, and always a step ahead — until suddenly he isn't. Nobody eats shit quite like Tetsuya Naito, but thankfully his moment comes at the expense of Kazuchika Okada, the character who provides the biggest thrill on the rare occasions like this when he's forced to pick up Naito's fork and knife and dig in himself. And boy, does he.
The final loose end of New Japan's 2010s peak get tied up, and the peak is over. It ends, finally, with the fulfillment of the promise made in the match that kick started this in the first place.
2. DANIEL BRYAN VS. DREW GULAK, WWE ELIMINATION CHAMBER (3/8/2020)
Ten months later, it still feels like a fever dream that this got to happen at all, let alone like it did.
For years, one of the big dreams has been Daniel Bryan getting to work with one of the mid 2010s Grapplefuck guys. It's not to say that it won't ever happen, as Thatcher and Busick are also under the WWE umbrella. We're probably never getting Daniel Bryan in a rematch with Sabre or Bryan against guys like Hot Sauce or Gresham for the first time. But we were given this match, this interesting and violent back and forth love letter between great technicians of different generations.
That's the phrase that keeps coming to mind when I watch this and rewatch it and write about it, because there's just so much care put into it. Gulak countering the Bryan classics on the ground to clearly communicate the idea of an indirect student being ready for the master. Bryan's frustration and then aggression at not being able to have his way early on, an old trademark throughout his career, now channeled in a more respectable manner as this stylistic elder statemen. The way Bryan weaponizes his own history of injuries by repeatedly trying to make a fist after a big landing on his neck, initially unable to before then being able to force his pinky and ring finger to cooperate to sell his nerves recovering. It's such a beautiful story, Gulak baiting his hero into this match, slowly unraveling him, drawing his continued mastery into question, and then trying to take him out in increasingly brutal ways.
What isn't careful is hard and violent and loud as hell. The most horrific bump of the year, the best babyface comeback in wrestling, and especially the end when it all comes crashing down. Drew Gulak put on the robe and hat and tried to animate the brooms to do his work for him, but things got out of control fast. The apprentice is still the apprentice and Daniel Bryan is still a sorcerer. At the end, Bryan drags him down, shows him how violence really works with a gruesome flurry of hammerfists to the neck and face, before reasserting his position with the grossest Yes Lock in recorded history. Gulak suffers once he takes the contest off of the ground. He may now be a better technician than Daniel Bryan, but in a more mixed kind of a fight, Bryan has the superior reserve and firepower that Gulak simple doesn't have. Gulak wanted the best in the world, and he got him. Come at the king, best not miss.
The most care and attention put into a match in 2020, made all the more impressive by where it came from. A tale as old as time, told with as much care, respect, and reckless abandon as I could ever ask for.
1. YUKI ISHIKAWA VS. DAISUKE IKEDA, WXW AMBITION 12 (3/7/2020)
Innovate all you'd like. Tell all of the stories you would like in however many years seem best fitting to you. The old techniques are always the best.
There is no older technique than this. It's pure fighting. It's always worked, going back twenty six years. It's maybe the greatest singular match up in wrestling history, certainly the greatest match up in the history of this particular style.
It worked in 1994. It worked in 1996. It worked in 1997. It worked in 1998. It worked in 2005. It worked in 2011. It worked in 2020, and God willing, it'll work again some day. Because I don't think it'll be over until someone's in the ground. More accurately, until Daisuke Ikeda is in the ground, because should Ishikawa go first, I'm not convinced Ikeda wouldn't make some kind of deal to reanimate Yuki Ishikawa so he could punch him in the face until the end of time. It's perfect. It's the realest thing in the world. Not fake like monkey show. And with everything else in wrestling either collapsing, decaying, existing as a shell of what it was, or not yet having found its identity, there's something so reassuring about the fact that not only does this match up still work, but that it still works for the reasons it always has. It's the one thing with no artifice to it. It's just fighting. Ishikawa and Ikeda, forever caught in this circle of pettiness, jealousy, and occasional moments of respect. I know they're never going to lie to me, and in a year where everything else in the world tried to, I cannot begin to tell you how refreshing that is.
That's sort of the thing with 2020, and fittingly, the Match of the Year is the purest expression of that. Throughout the year, everything else was stripped away in different layers. Removed from fans, from reactions, from any pomp and circumstance save some cinematic nonsense, wrestling was largely stripped down its most austere form, forced to rely entirely on what it was without any artifice attached. A lot of wrestling couldn't stand up to that pressure. The wrestling that could tended to be realer and more viscerally pleasing. The sort of matches and performances you'd expect from the sorts of wrestlers who had the benefits that come with modern wrestling, but who never seemed to need it to be successful.
Fittingly, the Match of the Year belongs to two people who rarely had any of that to begin with.
MONTH OF THE YEAR:
Time didn't really exist this year. Months didn't really have value because so few of us really got to experience life in any sort of real substantial way, which kind of negates the point of a thing like this. So instead, I've divided the year into four periods of some significance to me. I think everyone has The Before Times/The Long Long Ago/B.C. (Before Corona), the initial breakdown of society, and then different periods of the pandemic. Some of you got locked down for longer, at different times, etc. I think everyone has the initial vacation period, the panic period, maybe a nihilistic period, etc. Some of mine repeated, but narratively, splitting the year into four segments made the most sense.
4. THE BEFORE TIMES
What even happened here?
No idea.
I can talk about wrestling from here because of a spreadsheet but on a personal level, zero idea. I have no idea what happened to me, but we can talk about media I consumed. Based on Letterboxd, I watched ESCAPE FROM L.A. for the first time, which was really cool. Snake Plissken had a basketball scene that I haven't ever really stopped thinking about. I spent some part of this rewatching THE SHIELD, the most underappreciated prestige drama of all time. That brief foray in the origins of the Sutterverse briefly led me towards the notion of rewatching SONS OF ANARCHY, which ended up how it always does, bailing at some point in Season 3 because the Ireland sojurn is simply far too much and far too bad.
Based on previous years, I probably went to a Pistons game or two.
Seriously, none of this matters. It's stunningly inconsequential. Usually, I'd say that everything has some kind of meaning or value, but it's like this period belongs to another decade or century. The "decades where nothing happens" part of the year, compared to mid-March's week where decades happened.
3. SEPTEMBER – DECEMBER
The less fun part of all this.
Winter returning was a great reminder that holy shit this has lasted all year. I had also started taking some classes online at a community college and that took up significantly more of my time, because you know me, I don't have it in my to half ass a thing. Worked out alright so far, whatever. It's nice being able to work entirely on my own schedule. I found out that it was hard to do any sort of reading or work at my apartment so I had to start going to the library, and it's not fun to keep a mask on for hours at a time. But there's something really relaxing to me about having a ritual again, some kind of regimented schedule.
I keep staying up very late, but less because I'm relishing any sort of freedom and more because it's just a habit now. I'm writing this now at 3:30 in the morning and I'm barely even tired. A lot of days, I wake up at 11 am or noon and with nothing I have to do and nothing I want to do, I'll usually just take a nap again after I brush my teeth or do some leisurely reading. I got back on the wagon, in terms of not constantly eating like shit and drinking all the time. I got in an argument with a friend of a friend and was weirdly insulted about being told I had no culture when it came to films, and set about watching every stupid old or artsy movie I could find, because I am a deeply petty and spiteful bitch.
My second best friend from college came to visit with his new girlfriend in early October, and that was really cool. I missed being around people. When asked what I was doing, I just totally lied about now being unemployed and going back to school. I claimed I was doing online tutoring. I'm not. I won't ever tutor again. I had to make up a website when his girlfriend said she did that too and asked which site I was on. I pretended I was drunker than I was when she noticed I said different sites each time. It's all quite embarrassing. Sort of a wake up call to do something with my time. But it was so cool to get to hang out with one of my best friends again and to get to shout about politics again. We and the ladies and another friend went to brunch and for the first time in months after that the next day, and while I was embarrassingly hung over, it was all very nice. It was the first brunch I had had with this friend where we didn't either overhear a racial slur from either afar or, embarrassingly, someone at our own table. But that is a 2017 YEAR IN LISTS story. And a 2015 YEAR IN LISTS story. Down on the line to 2013. Real racist breakfast spot where I went to college. Incredible pancakes though and a name from my favorite novel. Hard to stop going.
After that, I briefly started working as a bartender in late October and absolutely loved it. I definitely wouldn't say something like I found my calling or anything, I've never been quite so lucky, but it's a much more relaxed job than the one I had had for the previous three or four years. Next to sitting in a booth and working college cafeteria security, it's the most relaxing job that I've ever had. Part of that is tending bar during a fucking plague, but when you work at a dive-y sports bar, the job is pretty much opening bottles or cans, pulling a tap nozzle, occasionally lifting a keg or two, and keeping up with conversation. There's also the sports bar part, so I can just watch sports talk shows all day. Of course, Big Gretch shut the state down again about a month ago, so I haven't been back, but it was a great job.
2. MARCH
you can have any virus you want, as long as it's a corona
The world fell apart!
It happened a few days after my 30th birthday. I really appreciated that. I always planned on some sort of mid life crisis this year, but it was incredibly cool of the world to just entirely collapse so it seemed like I was reacting to that instead when I quit a job I had wanted to quit for years, did nothing for a while, then decided to go back to school. I initially thought — as most people did — that I had probably already contracted COVID within the first week of the thing. I had just worked a three hundred plus person medical conference as a caterer, in addition to several small lunches and breakfasts that week in the same location. I also got weirdly sick and tired for a few days, but in retrospect, I might just chalk that up to work exhaustion and watching WCW Uncensored 1996. There was a panic that seems very silly now. My mother visited the apartment to drop off these gigantic care packages designed to help me not leave the apartment as a high-risk person (asthma), but they just had junk food and tissues and cough drops in them, so they weren't actually all that helpful at all. Moms, right?
I was briefly incredibly paranoid as an asthmatic without health insurance. I had been buying my inhalers online from a site in Pakistan and getting them in the mail two to three weeks later. I had gotten pretty good at timing it after not getting the timing right resulted in an E.R. visit in the fall of 2018, but with mail and air travel now being Different, my medication was held up for months and had to stretch what I had out longer. So for a few weeks until I found an online pharmacy in America that actually worked with people without insurance, I was much more uncomfortable than usual and convinced I was going to die if I went outside.
Outside of that sort of panic, nothing happened TO me really, but just being alive during all of this is something else. I've never felt less significant or more helpless than those first few weeks when everything seemed like it was on fire, when I was convinced I was going to die soon and the pandemic unemployment money hadn't started to roll in yet.
1. APRIL – AUGUST
AND THE MONEY WOULD ROLL RIGHT IN.
The golden age of coronavirus.
I don't have do anything. I briefly became obsessed with exercise and eating right and I did yoga every day before falling off the wagon HARD in early August. And man, nothing in the world feels as good as falling off the wagon. That can take any form really. Sometimes it's going on a bender after being sober for a few weeks or months. Sometimes it's ordering a ton of Taco Bell and eating carbs again. It can also just be buying a bunch of shit. I bought a new round table for the dining room. I bought one of those old style green bank lamps, the kind I've lusted after for years. I bought a bunch of new shirts and sweaters and fancier boots. Finally got a pair of sherpa lined jackets that I'd wanted for years. I could never QUITE justify the neon HEILEMAN'S OLD STYLE bar sign that I'd always wanted, but I got a nice tin one to hang in the kitchen like the one my dad used to have, and I smile whenever I look up and see it. I saw ALIEN for the first time and fell in love.
It wasn't all perfect, of course.
There were the occasional panic attacks where I asked what I was even DOING with all this time (hence constantly buying stuff) that led to signing up for online classes at a community college in the fall. The low point of this is the night I got blackout drunk, reviewed Davey Richards vs. Eddie Edwards from Final Battle 2011, and walked into a corner especially hard, losing my entire right big toenail. I woke up with a bloody paper towel around my big toe, the worst headache of my life, and proceeded to throw up from a hangover for only the second time in my life. I was too sick to move, ordered Taco Bell again for the first time in months and months, and watched a very bad Paradigm Pro fake shoot style show, complained online, and wound up getting subtweeted on commentary and arguing with them in a very embarrassing incident for both sides. A pandemic low point.
But mostly, it's that Michigan PUA money coming in that made it too hard to stay mad at anything.
Big Gretch tacked a bonus $600 per week on through mid August, so I was pulling in something like $800 a week and $2400 a month. No idea why people tried to kidnap her. I'd always lived fairly modestly since the tutoring paychecks stopped. I had some money issues a few times after college but after adjusting, I learned to pretty easily make due on less. The catering job was never reliable because of the way busy seasons vs. slow seasons worked, so I had to learned to live on as little as $500 a month and usually as much as $1200-1400 during busy season. Always keep something there in case something goes wrong or you get hammered and want to buy something online late at night or want to reward yourself after a long shift with an expensive drink or meal. Suddenly having all that money coming in changed me and is honestly the reason that I'm not quite so down on the year as so many others. Midwestern culture, baby.
Turns out money can actually buy happiness, who knew?
WRESTLER OF THE YEAR:
HONORABLE MENTION:
Brodie Lee
Daisuke Sekimoto
El Lindaman
Jonathan Gresham
Orange Cassidy
Sasha Banks
25. PAC
PREVIOUS: 15 (2019)
He only wrestled for some two to two and a half months. Normally, that'd be a disqualifying factor. Normally, it would result in not really even considering him here. But given that all three of PAC's major hits in 2020 were either on the MOTY list or in consideration for it, and given that in all of them PAC seemed like one of the very best wrestlers in the entire world, it feels very silly to deny him. There really isn't such a thing as a weak resume this year, so long as someone had at least a handful of great matches and maybe a little more underneath that.
RECOMMENDED MATCHES:
vs. Darby Allin, AEW (1/15)
vs. Jon Moxley, AEW (1/22)
vs. Kenny Omega, AEW (2/26)
vs. Orange Cassidy, AEW (2/29)
24. DANIEL MAKABE
PREVIOUS: 25 (2019)
I remain a Daniel Makabe agnostic. He's very good. I rarely ever come away from his matches blown away like so many of the people whose opinions I tend to share and value, but he also rarely ever shows up and has a match I don't at least LIKE.
In a match like the one with the BattlARTS icons or Eddie Kingston, it's easy to call him a passenger. However, the bulk of his resume this year is getting something out of guys who usually aren't good enough yet to get there on their own. Makabe might not have the major hits like the Gresham and Thatcher matches like he did in years past, but there's still a really impressive, robust, and diverse case laid out this year. The rare wrestler who — in terms of this list — wasn't really affected one way or another by the pandemic, because this is probably where he always ends up for me, all things being equal.
RECOMMENDED MATCHES:
vs. Kevin Ku, SUP (1/5)
vs. Judas Icarus, 3-2-1 BATTLE! (1/10)
w/ Chris Ridgeway vs. Yuki Ishikawa/Daisuke Ikeda, WXW (3/5)
vs. Eddie Kingston, WXW (3/6)
vs. Scotty Davis, WXW (3/7)
vs. Chris Ridgeway, WXW (3/8)
vs. Lee Moriarty, SUP (10/9)
23. YUJI OKABAYASHI
PREVIOUS: 12 (2012), 4 (2019)
From there we go to someone deeply hurt by the pandemic.
Also deeply hurt by primarily working for a bad company who didn't give him a whole lot to do before his end of the year title run and NYE Tag Shuffle performance. Nothing about Yuji Okabayashi's performances in 2020 dissuaded me from the idea that he's one of the very best professional wrestlers in the world. There's no drop off in talent. However, he wasn't given the same opportunities as he was in a banner year like 2019 and he suffered more than most from the Strong division's resistance to change, stuck once again in the same matches against the same guys that he's been for years now.
There is of course the 2AW run, but at some point, being a great wrestler against middling opponents in middling matches — save the title change against the promising Ayato Yoshida in July — doesn't really help a guy when he's already so obviously great. A great performance in a mediocre or bad match doesn't impress me all that much anymore, but given that Okabayashi isn't the last chop based Japanese heavyweight who suffers from such an affliction, we can save that talk for now.
Yuji Okabayashi still looked like one of the best wrestlers in the world, but unlike last year, neither the company he worked for nor the company he kept seemed all that interested in showcasing that at all. I still value that over someone who is in a lot of great matches but is often the worst part of them or mere luggage (feeling like soup right now for some reason????), but it puts a ceiling on the big fella that hasn't ever felt quite so present as it did in 2020.
RECOMMENDED MATCHES: 
w/ Daisuke Sekimoto vs. Dangan Yankees, ZERO1 (3/1)
w/ Shigehiro Irie vs. Daisuke Sekimoto/Kohei Sato, BJW (3/3)
vs. Ayato Yoshida, 2AW (7/5)
vs. Daisuke Sekimoto, BJW (11/23)
vs. Hideyoshi Kamitani, BJW (12/20)
w/ HARASHIMA vs. Konosuke Takeshita/Takuya Nomura, BJW/DDT (12/31)
22. YUYA AOKI
My most likeable son.
Another guy who makes it in because of the lowest ever barrier to entry, but I don't have a negative word to say about Yuya Aoki. It's just that he didn't get out of Big Japan much and that Big Japan didn't give him quite enough to do this year like a Nomura or Abe or even a Kohei Sato to where this was a slam dunk. It's largely the same case Yuji Okabayashi, only that the Lindaman defense is especially great, and he turned in one of the great underdog performances of the year in the tremendous Astronauts match in the fall. He isn't quite the best underdog in wrestling, but he's up there among the very best, and he's another of these promising young wrestlers from the Japanese indies who hasn't yet come across a situation or role that he hasn't excelled in.
Yuya Aoki is a guy who SHOULD stay on lists like these for years to come, but because of the company he keeps, could very easily fall off and never make it back in the top twenty five. Unless this lasts for another year and the barrier to entry stays incredibly low, which feels super possible!
RECOMMENDED MATCHES:
w/ Tatsuhito Yoshino & Kota Sekifuda vs. T-Hawk/Shigehiro Irie/El Lindaman, BJW (1/2)
vs. Fuminori Abe, BJW (2/11)
vs. El Lindaman, BJW (2/24)
w/ Shinjiro Ohtani vs. Astronauts, BJW (9/14)
vs. Tatsuhito Yoshino, BJW (10/21)
w/ Kota Sekifuda & Yosuke Sato vs. CIMA/T-Hawk/El Lindaman, BJW (12/20)
21. TOMOHIRO ISHII
PREVIOUS: 16 (2019)
Last year, I wrote about Big Tom that in a down year, consistency becomes more important than ever. Fuckin' A.
Ishii didn't have the spotlight much this year, not even many big G1 matches, save the heartwarming block "final" against the Knife Pervert and the annual Suzuki and Ibushi slugfests. But in the worst G1 in recent memory, that's enough to put him up there with the aforementioned two and Shingo Takagi as an arguable tournament MVP. Add in some surprisingly fun New Japan Cup matches against juniors El Desperado and Hiromu Takahashi, a tag early in the year best described as a Strong NJ match, and it's very quietly a more diverse year than you usually get at this point from Ishii.
One more of many to quietly have a top 25 year through quiet consistency and by working a style that still held up even while everything else fell apart. More on that to come, of course.
RECOMMENDED MATCHES:
w/ Hirooki Goto vs. Shingo Takagi/EVIL, NJPW (1/6)
vs. El Desperado, NJPW (6/16)
vs. Hiromu Takahashi, NJPW (7/2)
vs. Minoru Suzuki, NJPW (9/19)
vs. Kota Ibushi, NJPW (9/27)
vs. Shingo Takagi, NJPW (9/30)
20. KENNY OMEGA
I haven't gotten to write about Kenny Omega in one of these yet. I don't suspect I will until the 2016 through 2018 YEAR IN LISTS stretch. I certainly wouldn't have written about Kenny Omega in 2020 if other wrestlers got to have better or more robust years. He's had worse years to his credit, but this is every bit as frustrating and uneven as his DDT singles push years.
Of course there's great stuff.
I don't often find myself frustrated with wrestlers who outright suck. The frustration comes from their ability to do so much better than they frequently do, and it typically comes from someone like Kenny, who has one of the very worst brains in the history of wrestling.
Kenny doesn't outright suck, but the bulk of this case comes from the first two months of the year. The initial Hangman tag team stuff was perfect and surprisingly charming given Kenny's total lack of charm throughout his career. The PAC iron man was shockingly good in a very similar way.
Then the world collapsed and it turned out that Omega was one of these guys like Okada who very obviously benefited from a hot crowd living and dying with him. With that removed, his style was much more open as pure empty calories, without the spark and excitement that always seemed to buoy him before. The Tag Title matches after that always seemed unbearably long and complex. His heel work, save for the match against Page (hmm), was unbearable and not in correct sort of way for a heel. The match against Jon Moxley was a gigantic and overwhelming bomb. More and more, it felt like Kenny Omega was finally left to his own devices again, and there's virtually no version of Kenny Omega who I could want to see less than one allowed to do whatever he wants.
Those first two months though.
RECOMMENDED MATCHES:
w/ Hangman Page vs. The Young Bucks vs. Best Friends vs. Santana & Ortiz, AEW (1/15)
w/ Hangman Page vs. SCU, AEW (2/12)
vs. PAC, AEW (2/26)
w/ Hangman Page vs. The Young Bucks, AEW (2/29)
vs. Trent?, AEW (4/1)
w/ Hangman Page/The Young Bucks/FTR vs. The Dark Order, AEW (8/5)
vs. Hangman Page, AEW (11/7)
19. KAZUSADA HIGUCHI
Higuchi missed a good chunk of the year and didn't show up in great matches until the last five months of the year. Even then, he was largely shackled in a trio with Saki Akai and didn't get to do much outside of the D-Oh. His big win in the yearly tournament was impressive, but in a "beat Jun Akiyama in 4:00" way and not in any way that would really help him in a list like this. Higuchi's had several better years than this.
But then like…
He had a great match with Soma Takao.
How can I deny someone, in as weak a year as this, if they had a great singles match with someone that bad and that useless? I can't. I can't do it. I want Higuchi to do more and have more chances to show how great he is as the second or third best wrestler in DDT, but as long as he has one monumental accomplishment like that under his belt and a top 25 match on top of it, he's undeniable. If only DDT would see that too.
RECOMMENDED MATCHES:
vs. HARASHIMA, DDT (8/9)
vs. Konosuke Takeshita, DDT (8/10)
w/ Yukio Sakaguchi vs. Nautilus, DDT (10/25)
vs. Yuki Ueno, DDT (11/22)
vs. Makoto Oishi, DDT (11/27)
vs. Soma Takao, DDT (11/29)
18. YUKI UENO
The breakout star of the year.
In as much as anyone can break out during a fucking pandemic.
Ueno began the year as a promising young guy in a promising fun tag team. The bastard son of Kota Ibushi who he abandoned for HARASHIMA to raise. All the athleticism in the world, but with a really likeable energy to him and not a single bad habit to behold. Eventually, DDT let him do more and more and as of a classical "not there YET" run in the D-Oh to close the year, the only shot he's missed was against MAO. And respectfully, virtually nobody was able to make that shot all year except one of the ten best wrestlers of the year and DDT's all time greatest wrestler.
If not its greatest (HARASHIMA, Higuchi) or most impressive (Akiyama), Ueno spent 2020 as DDT's most consistent and prolific wrestler of the year. The most consistent wrestler in the most consistent country seemed just a little too hard to deny, even if he's still growing into himself.
RECOMMENDED MATCHES:
w/ Naomi Yoshimura vs. Keisuke Ishii/Kazuki Hirata, DDT (1/5)
w/ HARASHIMA & Naomi Yoshimura vs. Tetsuya Endo/T-Hawk/El Lindaman, DDT (5/30)
w/ Naomi Yoshimura vs. T-Hawk/El Lindaman, DDT (6/7)
vs. Tetsuya Endo, DDT (7/23)
w/ Naomi Yoshimura vs. Kazusada Higuchi/Yukio Sakaguchi, DDT (10/25)
vs. Kazusada Higuchi, DDT (11/22)
vs. Tetsuya Endo, DDT (11/29)
vs. Makoto Oishi, DDT (12/4)
17. KOTA IBUSHI
PREVIOUS: 33 (2019)
Like father like son.
It's a down year for Ibushi, but it doesn't feel like his fault at all. He was slotted with a lame duck too-long Dome main event to begin the year, didn't do much immediately before or after the pandemic, and made his case entirely with a G1 run that didn't even get to cap off in any sort of epic way, being tasked with a G1 Finals against fucking SANADA. Still, he's Kota Ibushi. The Ishii matches were reliable once again, the Jay White series delivered as always (so long as they don't go 48 minutes), and in his penultimate tournament match, Ibushi not only had Taichi's career match with him, but had one of the most unique and fascinating matches of the entire year and in recent memory.
Kota was tasked with a whole lot in 2020 and didn't always succeed with the impossible tasks he was assigned, but just being Kota Ibushi with some regularity was enough to get Kota back on here.
RECOMMENDED MATCHES:
vs. Jay White, NJPW (1/5)
vs. Jay White, NJPW (9/23)
vs. Tomohiro Ishii, NJPW (9/27)
vs. Minoru Suzuki, NJPW (10/10)
vs. Taichi, NJPW (10/16)
16. JUN AKIYAMA
PREVIOUS: 22 (2010), 15 (2012)
Uncle Jun makes his return to the list after a previous three or four years that (I assume here for 2016ish through 2018, 2019 already being done) weren't all that great, save a yearly reminder of who the hell he still is, and it's all due to a simple move.
Crusty old Uncle Jun waltzed into DDT and instead of waiting like Patience on a monument waiting for discipline to be handed down, he climbed off and delivered it himself, spending roughly half the year repeatedly owning Konosuke Takeshita and his poor ALL OUT boys at every turn, ending by turning in yet another tremendous round robin tournament performance and approaching the finals' rematch against Takeshita with the intention of showing everyone else just how to work an arm. Akiyama may not have one big gigantic hit or even as deep of a resume as others, but the difference is that every great Jun Akiyama match in 2020 is great explicitly because of Akiyama's performance. He's teaming with kids and mid level talents, sometimes both, against kids and mid level talents, often both, rarely getting to go up against DDT's very best, save for a pair of matches in the D-Oh. Few in wrestling history have ever been able to go out there and get their own bucket to the extent that Jun Akiyama has been able to, and 2020 showed that in the right situation, he still can.
Maybe the only wrestler who had a better year in the middle of all this shit than he had in a long time without making any significant improvements to his work or taking the leap. Sometimes all it really takes is a change of scenery.
RECOMMENDED MATCHES:
w/ Makoto Oishi & Hideki Okatani vs. Konosuke Takeshita/Yuki Iino/Shunma Katsumata, DDT (6/27)
w/ Makoto Oishi/Mizuki Watase/Hideki Okatani vs. Konosuke Takeshita/Akito/Yuki Iino/Shunma Katsumata, DDT (7/23)
w/ Makoto Oishi/Mizuki Watase/Hideki Okatani vs. Konosuke Takeshita/Shinya Aoki/Shunma Katsumata/Keigo Nakamura, DDT (8/23)
vs. Konosuke Takeshita, DDT (11/3)
vs. Makoto Oishi, DDT (11/29)
vs. Konosuke Takeshita, DDT (12/27)
15. GO SHIOZAKI
previous: 24 (2010)
I have absolutely no respect for as manufactured a WOTY case as NOAH tried to put together for Go Shiozaki. Some of the most shameless and obvious award bait I've ever seen.
It's like crossing stuff off a checklist, all these different sorts of long matches and stories. Deeply soullless stuff that drags down the case of a guy who I would never think to describe as "soulless" before. I like Go Shiozaki a lot. I've been really mean to him and a lot of that was just because I always loved Sugiura more when they were competitive about a decade ago, but I really like Go. The problem is that Go's kind of just about Go this year, not being able to translate individual good performances into good matches. The long matches either sucked (Nakajima) or were incredibly frustrating despite the great sections (Sugiura), and his time was otherwise spent in heatless matches against NOAH's bland roster. A great wrestler in mediocre or bad matches always goes so far. At some point, I start to wonder how good this guy is really if his matches aren't delivering more than impressive individual performances. Which sucks, because I know Go's better than that, but it is what it is. At some point, I stop being impressed by how great Go is at selling a long-term arm injury, because it never amounts to more than being impressed by him individually. It's the wrestling equivalent of empty stat chasing, getting MVP off of averaging a triple-double all season, and then not being able to do anything with it and losing in the first round to the fucking Rockets.
That being said, there's enough good from Shiozaki this year — and a weak enough barrier for entry —  that it doesn't matter all that much. His major hits resulted in two of the ten best matches of the year
The real crime in all this is how much higher he could have gotten if he got to just have a normal reign instead of NOAH trying to move heaven and earth to force people to talk about hi mas THE Wrestler of the Year. Like virtually everything else NOAH's set their minds to over the last ten plus years, they blew it. It's a shame too, because he might have had a real shot if it wasn't so god damned transparent.
RECOMMENDED MATCHES:
vs. Kaito Kiyomiya, NOAH (1/4)
w/ Katsuhiko Nakajima vs. Naomichi Marufuji/Masaaki Mochizuki, NOAH (1/5)
w/ Katsuhiko Nakajima & Shuhei Taniguchi vs. Takashi Sugiura/Kazuyuki Fujita/Hideki Suzuki, NOAH (1/30)
vs. Kazuyuki Fujita, NOAH (3/29)
vs. Kaito Kiyomiya, NOAH (10/4)
vs. Takashi Sugiura, NOAH (12/6) (kinda)
14. HANGMAN PAGE
Somehow, the heart and soul of AEW????
Page is a guy I've always liked, going back to him coming out in a trucker hat as a local enhancement guy in 2012 ROH. I thought he had something with the ACH feud in 2015, but like every promising early to mid 2010s ROH midcarder, nothing came of a hot little feud and he always just seemed on the cusp of putting it together.
If we're being honest, he's still there.
Fortunately, he and AEW stumbled upon a character and whole deal as the Anxious Millennial Cowboy that does so much of that work for him, and it turns out that a more mainstream style story-driven environment was what he'd needed all this time. Omega and the Bucks seem to get much of the credit for the gorgeous Revolution tag, but it's Page who puts a beating heart behind all of it. He's also very easily the best part of the Stadium Stampede match, the unrivaled dudes rock hoot of the year, providing both some of the funniest and some of the most fist-pumpingly celebratory parts of the entire match. Kenny Omega seems like a stronger candidate on paper, given that he has all the same items on a list and the PAC match too, but what Hangman has going for him is the very low number of misses on his own, or at least, that he feels responsible for. What he really has going for him is something like the Wardlow match, where it's certainly not great, but where Page gets more out of the young big guy than anyone else has so far. It's his ability to get more out of Omega in a singles match than people who are much better than him. It's not a thing that makes a lot of sense on paper, it just simply is. Nothing about this should work, but it does. It so completely does.
With Hangman Page, the product is still far from finished, but for the People's Champion of AEW, that doesn't matter all that much in 2020. In a year though where very little was interesting and even less was entertaining, Hangman Page managed to be both with some regularity. It's a testament both to the power of a good character and how important it can be to just go with something.
RECOMMENDED MATCHES:
w/ Kenny Omega vs. The Young Bucks vs. Best Friends vs. Santana & Ortiz, AEW (1/15)
w/ Kenny Omega vs. SCU, AEW (2/12)
w/ Kenny Omega vs. The Young Bucks, AEW (2/29)
Stadium Stampede, AEW (5/23)
w/ Kenny Omega/The Young Bucks/FTR vs. The Dark Order, AEW (8/5)
vs. Kenny Omega, AEW (11/7)
w/ Beaver Boys vs. MJF/Santana & Ortiz, AEW (12/30)
13. YUKI ISHIKAWA
PREVIOUS: 45 (2019)
As great as he ever was.
Yuki Ishikawa had under ten matches in 2020, less on easily available tape, and two of them were among the twenty five best matches of the year. One was the best match of the entire year. You could chalk that up to both featuring him against the other half of one of wrestling's all time great match-ups, except that he also got the chance to work against four totally new opponents in tag team matches. The result was a career match for Chris Ridgeway and one of Dan Makabe's best of the year in one and the best Jake Lee match of the year in the other. Truly, it's the All Japan tag in particular that makes the case for Ishikawa on the list while his dance partner in every other match this year, Ikeda, doesn't quite have enough for me. Really all it took was one step outside of that, because it's all just so great.
Usually, I want quality and quantity for people this high on the list. Usually.
However, with competition this scarce and the quality THIS high, it just didn't seem to matter here.
RECOMMENDED MATCHES:
w/ Hikaru Sato vs. Jake Lee/Fuminori Abe, AJPW (1/19)
w/ Daisuke Ikeda vs. Daniel Makabe/Chris Ridgeway, WXW (3/5)
vs. Daisuke Ikeda, WXW (3/7)
w/ Timothy Thatcher vs. WALTER/Daisuke Ikeda, WXW (3/8)
12. KOHEI SATO
PREVIOUS: 38 (2019)
Mr. Reliable comes through once again.
I've said privately to people, and probably publicly as well at this point, that I think Sato is the most underrated wrestler of the last ten years in Japan, and once more, he's great. Kohei Sato didn't pop up a whole lot in 2020, but he popped up as much as anyone else and as much as he needed to. Kohei Sato usually winds up with five or six great matches a year and one or two REALLY great ones, so he manages to be the rare wrestler whose case doesn't change all that much. In every match he has, he's beyond vital. Either he's the glue holding together matches with older and more mercurial guys like the Z1 tag in February, getting the most out of said mercurial wrestlers in singles matches, or as seen in the Astronauts tags, something even better. In August, he's the most brutal guy in there, giving the kids something to really fight back against. To end the year, he turns it around and delivers one of the great limb selling performances of the year, and does so while never once coming off as sympathetic. It's a gift, and like any gift, Kohei Sato has all of them.
The case is the same as always, only now the ground was clear enough not only for Sato to parachute into the top 25 for the first time, but to parachute in this fair.
Worldwide pandemic or not, there are constants, and one of them is Kohei Sato having a sneaky great year.
RECOMMENDED MATCHES:
w/ Shinjiro Ohtani vs. Masato Tanaka/Yuji Hino, ZERO1 (2/9)
vs. Yuji Hino, ZERO1 (3/1)
w/ Daisuke Sekimoto vs. Yuji Okabayashi/Shigehiro Irie, BJW (3/3)
w/ Daisuke Sekimoto vs. Astronauts, BJW (8/10)
w/ Shuji Ishikawa vs. Astronauts, BJW (12/20)
11. ALEX SHELLEY
PREVIOUS: 8 (2010), 50 (2019)
Last year's vanity pick goes on and has a hell of a year. Alex Shelley shows just about everywhere on an independent level in 2020, and is always THE highlight of every show he's on. A wrestler still good enough to make people make questionable decisions like checking out a Warrior Wrestling stadium show or even watching Impact Wrestling after the year 2013. Shelley against the masters like Gresham or more reliable hands like Deppen, Isaias, or Haskins is one thing, but the real mark of Shelley's greatness is the praise that young wrestlers come out of a series with Shelley having. They're rarely close to being as good with anyone else as in the Alex Shelley series, and that's not an insult to them. Shelley just gets the best out of everyone. He always has.
One of the few really cool and heartwarming things in wrestling all year has been to see him finally get appreciated and rewarded for it.
RECOMMENDED MATCHES:
vs. Isaias Velasquez, BLP (1/18)
vs. Lee Moriarty, AIW (2/7)
vs. Mark Haskins, ROH (2/9)
vs. Jonathan Gresham, Warrior Wrestling (9/19)
vs. Isaias Velasquez, BLP (10/3)
vs. Lee Moriarty vs. Tre Lamar, AIW (10/9)
vs. Tony Deppen, GCW (10/10)
10. TIMOTHY THATCHER
PREVIOUS: 1 (2019)
There's a drop off, but it sure isn't because anything Timothy Thatcher did wrong in the ring.
It is, of course, because he signed a contract with the WWE. It's the ultimate testament to Timothy Thatcher that — unlike other WOTY guys who have signed contracts off of that run like a Hero, AJ, Roderick Strong, El Generico, Coward, etc. — the drop off is this insignificant. You have to look at AJ Styles to see someone who so similarly failed to drop off making the independents to WWE transition, and that was a guy who spent that year as a focal point of the entire company. Timothy Thatcher did that as a midcard act in NXT.
He was also able to do it because a pandemic cleared out so much of the competition while Thatcher stayed regularly on television, but after all of the bad breaks Thatcher's had, it feels hard to complain about something going his way for once. It feels even harder to complain when his old secret enemy reappeared behind the scenes and MYSTERIOUSLY, Thatcher's promising push went up in smoke for months before returning in a less significant form. Even then, Thatcher made everything he touched so much better than it would have otherwise, including KUSHIDA's only great WWE match to date and the best Tommaso Ciampa match that anybody's had all year. Outside of his usual miracles, Thatchman got to play around with an old foe or two, including his greatest rival, Oney Lorcan, and managed to somehow bring back the Lions Den Match in one of the only instances all year of something in the WWE being both interesting and good.
Seamlessly transitioning into the WWE, changing virtually nothing about himself, and not being ruined might be too big a task for a guy like Timothy Thatcher. Time will tell. Timothy Thatcher might just be too weird to live in the WWE, but too rare to be allowed to leave. He wouldn't be the worst. The fact that he had those initial few months is promising though, and in a year like this, all a wrestler like Timothy Thatcher really needs is a few chances against opponents like he had to make it this far.
RECOMMENDED MATCHES:
w/ Yuki Ishikawa vs. WALTER/Daisuke Ikeda, WXW (3/8)
vs. Matt Riddle, WWE (5/13)
vs. Matt Riddle, WWE (5/27)
vs. Oney Lorcan, WWE (7/1)
vs. Oney Lorcan, WWE (7/22)
vs. KUSHIDA, WWE (11/25)
9. FUMINORI ABE
The first half of our interstellar travelers to make the list.
Abe often doesn't stand out in Astronauts tags quite in the same way that Nomura does, but that's no mark of shame. He's the rougher edge that the act requires to work like it does, and does a magnificent job of that. Without the comparison, Nomura doesn't stand out quite so brightly as the hopeful and energetic one. Abe is the steadfast point of comparison that makes their babyface act work, and the grittier one who winds up driving the matches on the rare occasions they step out of that or perform with a sharper edge.
Beyond being half of the best tag team of the year and one-quarter of two of the best matches of the year, Abe has enough hits to stand out on his own. Every time he and Yuya Aoki touch is magic, and in his few All Japan appearances, Abe provided a spark so desperately and embarrassingly missing from pretty much everything else in the company.
The millionth guy to have a down year relative to what he's capable of, but we saw just enough of Abe removed from the team to leave very little doubt in my mind about his placement here.
RECOMMENDED MATCHES:
w/ Jake Lee vs. Yuki Ishikawa/Hikaru Sato, AJPW (1/19)
w/ Isami Kodaka vs. Koji Iwamoto/TAJIRI, AJPW (2/6)
vs. Yuya Aoki, BJW (2/11)
w/ Takuya Nomura vs. Daisuke Sekimoto/Kohei Sato, BJW (8/10)
w/ Takuya Nomura vs. Shinjiro Ohtani/Yuya Aoki, BJW (9/14)
w/ Takuya Nomura vs. Okami, BJW (10/21)
w/ Takuya Nomura vs. Twin Towers, BJW (12/20)
8. TAKUYA NOMURA
PREVIOUS: 19 (2019)
Japan's greatest young babyface.
It's hard to say if this is a career year for Takuya Nomura. Not simply because, y'know, the world collapsed and everything, but because he spent so much of it focused on tag team wrestling. Something like managing a genuinely really great title match against Daichi Hashimoto is enough to separate him from his tag team partner, given the Herculean task that it was. He's also the best guy on his team in the majority of their matches, and the emotional core of the unit. Fuminori Abe is the foundation, the body, the framework, etc., but more often than not, Takuya Nomura is the motor of the team.
Best Nomura will almost definitely go on to have many better years than this, no matter what his ranking might be in those years compared to these incredibly weird year for such a thing.
RECOMMENDED MATCHES:
w/ Tetsuya Endo vs. Daisuke Sekimoto/Chris Brookes, BJW/DDT (1/1)
w/ Okami vs. Yuji Okabayashi/Yuji Hino/Akira Hyodo, BJW (1/13)
vs. Daichi Hashimoto, BJW (2/24)
w/ Fuminori Abe vs. Daisuke Sekimoto/Kohei Sato, BJW (8/10)
w/ Fuminori Abe vs. Shinjiro Ohtani/Yuya Aoki, BJW (9/14)
w/ Fuminori Abe vs. Okami, BJW (10/21)
w/ Fuminori Abe vs. Twin Towers, BJW (12/20)
7. DARBY ALLIN
PREVIOUS: 17 (2019)
Sneakily, maybe the television wrestler of the year.
Darby Allin isn't the breakout star of the year because he's been a great wrestler since 2017, but it's incredibly cool that everyone got to see him now all year and that he became an actual star. I was a convert once upon a time, he's a very easy guy to hate on first glance or on first story about him, but he just makes it too hard at this point to keep it up.
The meat of his big year, of course, comes from the delightful Cody Rhodes series. Save for Dustin Rhodes on the apron, nobody has ever repeatedly gotten more out of Cody Rhodes than Darby Allin did in three matches this year. It wasn't just chemistry, it was the through line from match to match to match that made it work. Under the rader, Darby was also secretly the best babyface PAC got to wrestle in the first quarter of the year and the best challenger Jon Moxley had all year. It isn't his greatest match of the year, but the match against Sammy Guevera from Revolution might be Darby Allin's crown jewel, if only because I almost never like Sammy Guevara matches that aren't outright murders. But Darby got something out of him. Darby doesn't have all the numbers on his side, but given so much of the competition, his output is that much more impressive.
Once the bell rings, there is no better underdog in wrestling than Darby Allin. That's it, nothing else really matters. I'm not ranking human beings here.
RECOMMENDED MATCHES:
vs. Cody, AEW (1/1)
vs. PAC, AEW (1/15)
vs. Sammy Guevara, AEW (2/29)
vs. Cody, AEW (4/29)
vs. Jon Moxley, AEW (8/5)
vs. Ricky Starks, AEW (9/30)
vs. Cody Rhodes, AEW (11/7)
6. HARASHIMA
previous: 16 (2011), 5 (2019)
All year, the question with some guys and with a list like this at large is what to do with guys who take these huge breaks, or when so much of an output just isn't very good for all these reasons that have little to do with individual performance or anything. I've gone on record saying that I don't feel comfortable calling someone the WOTY if they simply disappear for large portions. That can mean getting signed midway through or going on the shelf or it can mean simply periods of inactivity or poor use. It's just very hard to justify it, no matter how good the case might be.
If nothing else, I have incredible respect for DDT and for HARASHIMA for putting together the single most literal and robust case of someone doing this that I can remember in the history of writing these pieces.
Save for a couple instances of great DDT formula tags where he was a supporting player (albeit still very clearly the best wrestler in the match!) and the annual Higuchi slugfest in August, HARASHIMA effectively sat out for ten and a half months in 2020. Bit parts in mid to undercard tags, mostly helping the young guys get some ring time, and rarely getting the chance to anything of any significance.
In the last six weeks of the year, HARASHIMA was the best wrestler in the world.
I don't know what to do with that!
HARASHIMA did what so many people have failed to do in round robin tournaments since they came back into vogue in the early 1990s and that's have a perfect tournament, in-ring wise. Every single match he was in was great, and it's not like he had an easy time with guys like MAO or Brookes, who haven't had the greatest years. The match with Sakaguchi was shorter than they probably deserved. The cherry on top, besides top 25 MOTY level work with Akito, was the block final against Konosuke Takeshita. All tournament, Takeshita's arm had been targeted to middling results, but HARASHIMA was the only one who seemed to make it work, and threw in both a lunatic bumping performance and a masterful knee selling performance on top of that. Was that the end of the year? No, because he got to team with another terrific wrestler Yuji Okabayashi in the annual New Years Eve Shuffle, and an encounter against Takeshita and Takuya Nomura not only nearly made the MOTY list itself, but saw HARASHIMA continue what he started with Takeshita and take some revenge of his own to add onto Takeshita's humiliation following the tournament final loss to Akiyama.
And yet, tying this all together and account for the near three week break in between December 12th and December 31st, it is less than a month of activity. It's so brazen that a part of me wants to give him WOTY and be done with it. Sadly, HARASHIMA can't be the wrestler of the year, given how much of it he was on the bench for, but it's hard to deny someone still as great as he was during the time when he was actually allowed to contribute something. Because when he got in, there was nobody better.
The most mystifying case for a top ten guy on a YEAR IN LISTS yet.
RECOMMENDED MATCHES:
w/ Nautilus vs. Konosuke Takeshita/Akito/Yuki Iino, DDT (1/18)
w/ Nautilus vs. Tetsuya Endo/T-Hawk/El Lindaman, DDT (5/30)
vs. Kazusada Higuchi, DDT (8/9)
vs. Chris Brookes, DDT (11/22)
vs. MAO, DDT (11/28)
vs. Yukio Sakaguchi, DDT (12/2)
vs. Akito, DDT (12/6)
vs. Konosuke Takeshita, DDT (12/12)
w/ Yuji Okabayashi vs. Konosuke Takeshita/Takuya Nomura, BJW/DDT (12/31)
5. MINORU SUZUKI
One of the ultimate cases of the pandemic seemingly leveling everything except for the old techniques.
Suzuki's usually not a guy who makes lists in a busier year. He might be on the periphery more in years I haven't covered yet, but for the most part, he'll drop in for a handful of great matches a year. Turns out in 2020, a handful of great matches and no real misses makes top a top five guy. Wild. It helps that he has one of the major hits of the year against Jon Moxley, but it's also a better year for Suzuki than he'd had in some time underneath that.
Yuji Nagata and Minoru Suzuki have had A LOT of matches, but I don't know that the one in June wasn't their very best. Two of the three Shingo Takagi matches are outstanding. Suzuki even figured it out against Kota Ibushi following at least one not-great G1 match in previous years (the key? just hit him. don't grab a hold, you fucking idiot. it's Kota.). And of course, the can't-miss Big Tom match up.
There's a lot to love.
It's an incredibly one dimensional case, but when you have one technique and it works this well and the field is THIS narrow, it's far less of a problem than it ever was.
RECOMMENDED MATCHES:
vs. Jon Moxley, NJPW (2/9)
vs. Yuji Nagata, NJPW (6/19)
vs. Shingo Takagi, NJPW (8/29)
vs. Tomohiro Ishii, NJPW (9/19)
vs. Kota Ibushi, NJPW (10/10)
vs. Shingo Takagi, NJPW (11/7)
w/ Kengo Mashimo & Kengo vs. Yuji Hino/Ryuichi Kawakami/Hikaru Sato, Tenryu Project (11/15)
4. SHINGO TAKAGI
previous: 20 (2010), 15 (2011), 22 (2012), 6 (2019)
Shingo and Suzuki were always going to be back to back, and realistically, Shingo was always going to be the higher of the two.
He's just the fucking best, man.
Minoru Suzuki might have the funnier faces and harder elbows, but Shingo has such a better and more well rounded resume. Suzuki had the one shot or one pitch to him, but Shingo did not. Something like the SHO match existing to change things up from his more traditional matches against Goto, Suzuki, and Ishii means something when differentiating the two. The main difference is that in those matches, Shingo's always the best guy there. He's the one fighting through the arm pain, he's the one fighting from underneath and showing a new side to himself, and it's about him and his growth. Minoru Suzuki is Minoru Suzuki. You know what you get, it doesn't change all that much at this point. Suzuki's had these matches against worst wrestlers and seen them fall short, but these work because Shingo's so great in them.
He also managed to have a great match against Jeff Cobb, the second time of three in a row.
True miracle worker.
RECOMMENDED MATCHES:
w/ BAD vs. Hirooki Goto/Tomohiro Ishii, NJPW (1/6)
vs. Hirooki Goto, NJPW (2/1)
vs. SHO, NJPW (6/22)
vs. SHO, NJPW (7/12)
vs. Minoru Suzuki, NJPW (8/29)
vs. Jeff Cobb, NJPW (9/23)
vs. Tomohiro Ishii, NJPW (9/30)
vs. Minoru Suzuki, NJPW (11/7)
3. DANIEL BRYAN
PREVIOUS: 5 (2010), 19 (2011), 8 (2012), 9 (2019)
As I look at the empty blurb to start this, I keep thinking about 1995 Bret Hart. Daniel Bryan in 2020 reminds me a whole lot of 1995 Bret Hart.
In 1995, Bret Hart was still one of the best wrestlers in the world. Definitely the best wrestler in his company. He didn't get to do a lot though. He was tasked with a lot of bullshit. Non finishes with Diesel. A summer feud against a dentist, a fall feud against a one-eyed pirate, cast firmly behind worse wrestlers than him until the time came at the end of the year. And yet, Bret Hart was one of the greatest wrestlers of all time and made it work. The PCO matches were great. Bret/Hakushi is probably overrated, but it's great. At the end of the year, Bret got a career match out of Kevin Nash and then Davey Boy Smith in back to back months.
Bryan didn't quite return to the main event at the end of the year, but the tease is there to once again go up against the Kevin Nash of his era, if only they had had the decency to turn Diesel before he lost the title. Otherwise, real spot on. The best wrestler in the company, put on the backburner and given either incredible opportunities or scraps, rarely anything in between, managing to deliver and deliver and deliver. Like Bryan in 2010 or 2011, it's the sort of thing I think about when I think about the real greatest wrestlers of all time, and how it's so much more impressive to have a great year in situations like this than it is when you have every advantage in the world.
If Bret Hart had the landscape Daniel Bryan did in 1995, he probably would be the third best wrestler of the year too.
In the first half of the year, Bryan seemed like as good of a #1 pick as there was. He had a great match against THE FIEND. I used the phrase "miracle worker" a few sections ago, but there should be actual shrines set up to commemorate Daniel Bryan's accomplishment at the 2020 Royal Rumble. The Drew Gulak series is stunning, not so much because of its prodigious quality, but because they got something in that style onto both WWE pay per view and television. In it, Bryan proved himself capable of the same sort of anfractuous work that's become his trademark as he's always been. Then, Bryan found ways to deliver against everyone he faces for the first half of the year, even dragging one out of a largely past-trying-that-hard AJ Styles in yet another sprawling Daniel Bryan television epic before taking a leave of absence to birth another child.
Following a well earned vacation, Bryan returned both with a vengeance and also with the single worst haircut of his entire career. The November 27th match against Sami Zayn is the best match Zayn's ever had in three years (jesus) of working heel in the WWE. Across three matches with Jey Uso, Bryan did as much to elevate him as humanly possible. It isn't the sort of work and opposition Bryan deserved and the drop off definitely cost him a very winnable award, but it's still as impressive as it always is when someone manages to go above and beyond with the meager tools put before them.
Daniel Bryan is still the greatest wrestler of all time. At points, he still looked like the very best wrestler in the world. If you came up to me and demanded a split second call on who it is at any moment, unless I'd just watched a truly incredible performance from someone else, my gut instinct would still be to say Daniel Bryan. But he worked for the WWE in their worst year ever, took a third of the year off, and that matters, even if you happen to be the greatest wrestler to ever live.
RECOMMENDED MATCHES:
vs. THE FIEND, WWE (1/26)
w/ Roman Reigns vs. The Miz/John Morrison, WWE (2/14)
vs. Drew Gulak, WWE (3/8)
vs. Cesaro, WWE (4/17)
vs. Drew Gulak, WWE (5/15)
 vs. AJ Styles, WWE (6/12)
vs. Jey Uso, WWE (11/20)
vs. Sami Zayn, WWE (11/27)
w/ Rey Mysterio & Big E vs. Sami Zayn/Dolph Ziggler/Shinsuke Nakamura, WWE (12/4)
2. EDDIE KINGSTON
PREVIOUS: 8 (2011), 11 (2012), 26 (2019)
Eddie Kingston is one of the greatest professional wrestlers of all time.
Gun to my head, there's nobody else in the world I'd rather watch right now. I say "watch" specifically because all around, nobody is as engaging as Eddie Kingston. As said before and by a lot of us in a certain group chat, Eddie Kingston is the only left with the ability to break the television like a CM Punk or Steve Austin used to do, to stand apart from everything else around him and feel real. Everything before him and after him on a show or pay per view might be bullshit, but look and listen and try and tell me that Eddie Kingston is bullshit. He's not always a guaranteed great match, he hasn't been given the best competition since making the leap to prime time outside of Jon Moxley, but I will watch every single thing that Eddie Kingston does because that doesn't always matter. There is no better talker in the world. Even as a manager on the floor, he's gripping in the way that nobody else but Taz is anymore. Eddie Kingston is the most purely watchable person in professional wrestling.
He is not the Wrestler of the Year.
I just don't feel it in 2020. I suppose I'm a little romantic about the award, and I have to feel it. But it's not a pick I hate. It's not one I'd argue with. People have said it and I don't disagree with the general idea behind it. To give Eddie Kingston the respect he's due and that he's been due for the last thirteen years AT LEAST. A lot of it just feels like a gold watch to me though. It's sentiment, and I've never been much for sentiment when it comes down to a thing like this. It's not a lifetime achievement award, it's about this year, and in this year, it just doesn't feel right. This award as some guilt trip for not acknowledging him sooner. I don't feel that guilt. And honestly any time that somebody who I don't know puts that out there, my immediate first question is where they've been exactly.
And yet, it's Eddie Kingston, man.
Even in…I don't know…his seventh or eighth or ninth best year ever, he's still so much better than almost everyone else. He has a top two or three Cody Rhodes singles match of all time. He showed up to an ICW show in July and had the best Brett Ison match I've ever seen. The 16 Carat run wasn't the greatest, but almost nobody else who could have worked that tournament could have gotten that Eddie got out of total bums-slash-little children like The Rotation and Cara Noir. He's missing the one big great hit to make this an absolute lock though, even if a certain restriction on his work now isn't necessarily Eddie's fault. I think that matters. As much as I like all this stuff and as impressive as he is in some of his lower level matches, there's a jewel missing in the crown. When it's nut cutting time, when I'm struggling to differentiate between #1 and #2 here, it's the exact sort of thing that matters the most, and it's where Eddie's lacking this year.
If not for one guy, he'd be the Wrestler of the Year.
Unfortunately, his best competition has the thing Eddie just happens to be missing.
And nothing sums up Eddie Kingston better than that. The greatest and most captivating loser of a generation comes up short, just barely, one more time. Not because he's a worse wrestler, but just because things shook out a certain way.
RECOMMENDED MATCHES:
vs. L.A. Park, RevPro (2/14)
vs. Daniel Makabe, WXW (3/6)
vs. The Rotation, WXW (3/7)
vs. Cara Noir, WXW (3/8)
vs. Brett Ison, ICW (7/4)
vs. Cody, AEW (7/22)
vs. Jon Moxley, AEW (9/23)
vs. Jon Moxley, AEW (11/7)
1. JON MOXLEY
PREVIOUS: 7 (2010), 14 (2019)
The traveling NWA World's Champion for people who have slept outdoors. A 2000s ROH World Champion for people who started doing meth because their downstairs neighbor offered once and there was nothing else on but an Unbeatable Banzuke marathon on G4. A prestige wrestler for people who have used an open window as a fridge during winter because they hadn't bought one yet.
With all due respect to the rest of the top five, Moxley this year wasn't just eternally solid when few others were. Unlike Eddie Kingston, it wasn't just him finally getting recognized after deserving it for so long. It was putting on genuinely some of the best all around and most impressive work of his career. I always say this is in-ring only, but that's never strictly true because it can't be. The things outside of the ring that happened for Jon Moxley don't make him #1, but they provide a certain cushion.
At some point, Jon Moxley became the perfect synthesis between John Cena and CM Punk. He can't quite break the television, but outside of Eddie Kingston, nobody around him feels as real or legitimate as a human being and absolutely nobody else feels as correct on top. He convincingly carries himself as The Guy while still managing to keep himself just enough on the outside looking in to always preserve the edge. It's best on display in the match against Darby Allin as a harder edged voice of experience, but he carries it off just as well against Minoru Suzuki on the other side of the planet in the exact opposite situation. A grit and grime sort of a guy that, somehow, became a pillar of stability while everything else in the world disappeared or spent the year slowly collapsing. Wrestling a similar style and with similar restrictions to Eddie Kingston, Jon Moxley managed to do a much better job not of getting past that barrier, but of making it seem like that barrier didn't exist. With Eddie Kingston brawls in AEW, it always felt like, "well, this is all Eddie can really go on mainstream cable TV or PPV". With Jon Moxley, it felt like it was all he had to do, and it's a substantial difference.
I made a joke after the Kenny Omega bomb that Mox was no longer the WOTY. I meant it at the time, still with Daniel Bryan matches left to watch and not having seen any Japanese wrestling from the last two months of the year when I wrote that.
Obviously, it was wrong.
I'm not walking the take back. That match sucked, they're bad together, and a TNA invasion angle is some of the lamest shit in the world. But it's hard to put that on Moxley. He's had more than the one bomb this year. For some reason, he was asked to half a half hour empty arena match with Jake Hager in 2020. He worked twenty minutes on pay per view with old man Chris Jericho. They asked him to main event a pay per view with a World Title match against a man who was doing musical theatre a month later. These are all unwinnable scenarios in which it feels very silly to hold a wrestler as great as Moxley was in every other scenario this year accountable. Even moreso, the fact that the latter two (the title matches against Chris Jericho and MJF) had even moments of entertainment, heart, and value seems like it makes my case for me. Nobody else did that and I don't know if anybody else could have done it. Very few others could have also gotten something halfway decent against a lug like Brian Cage either, and Moxley did it.
Beyond that, the hits are some of the best in wrestling all year. Few people have as many high level great matches as Moxley in 2020, and of those who do, none of them also have the foundational aspects that Moxley does on his resume. Aside from Kobayashi Maru style situations like a half hour Kenny Omega or Jack Swagger match in front of no people with bad booking, nobody had a better year than Moxley, and nobody had as well rounded of a year as Jon Moxley. The Darby work, the New Japan work to start the year, performing for two months with an eyepatch on, delivering with Brodie Lee, and the Eddie Kingston matches to end the year.  I had a moment of doubt, but when I looked around, there simply wasn't anybody better to put my faith behind.
In 2010, I wrote about Jon Moxley that it was his career year and that the great shame of the 2010s was missing the evolution from point A (Switchblade Conspiracy & CZW Champion era Moxley, the 7th best wrestler of 2010) to point B (the guy who showed up in 2019). The part I didn't write then and that I feel was very strongly implied, was that this was a  guy who was always capable of the thing he got to do in 2020, which is being the focal point of an entire company and being the top babyface in the world. If we got nothing else — and at times that felt like the case — at least we finally got to see that fulfilled and got to see just how great he really was.
In a year when the world exploded, we were all stuck inside, a bunch of us lost our jobs, and there was a global plague — and as I write this blurb a day removed from an attempted coup — I cannot think of a better or more fitting Wrestler of the Year than Jon Moxley.
RECOMMENDED MATCHES:
vs. Trent?, AEW (1/1)
vs. Lance Archer, NJPW (1/4)
vs. Juice Robinson, NJPW (1/5)
vs. Minoru Suzuki, NJPW (2/9)
vs. Brodie Lee, AEW (5/23)
vs. Darby Allin, AEW (8/5)
vs. Eddie Kingston, AEW (9/23)
vs. Chris Dickinson, GCW (10/11)
vs. Eddie Kingston, AEW (11/7)
Thank you for reading! This was a wonderful exercise for me to put the year to bed, and all of that. men will literally write 21,854 words about pro wrestling (mostly) in 2020 instead of going to therapy. And now we never have to think about it again!
As always, reading all of this has made you dumber.
If you want to be cool in a time when everything is still pretty fucked up, hit me at https://ko-fi.com/elhijodelsimon.